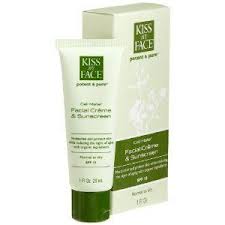 Kiss My Face Cell Mate Review
Kiss My Face Cell Mate Overview
We have to admit to being a little confused about what Kiss My Face Cell Mate is trying to be.  It's basically a facial moisturizer with SPF and some anti-aging ingredients.  But in the end, it might perform well enough at either function to be worth a second look.  We don't want to judge too harshly without looking into the details, so look into the details we will.
The idea behind Kiss My Face is a great thing.  Mostly natural products made by a company that cares about the environment.  All of that is great, but we want something that works too.  And we're sure plenty of Kiss My Face products work quite well.  In face, we've heard great things about their spray sunscreen.  But when we compare the promise of Kiss My Face Cell Mate (enhance skin tone, reduce fine lines, protect skin from environmental stresses, while providing protection from the sun's rays) to what it looks like it delivers, we're not so sure they match up.
Kiss My Face Cell Mate Ingredients and How They Work
First of all, the active sunscreen ingredients are Octyl Methoxycinnamate, Octyl Salicilate, Oxybenzone Aqua.
For anti-aging, there are primarily antioxidants in the form of botanical extracts.  Some examples are Chamomile Extract, Echinacea Extract, Goldenseal Root Extract, Horsetail Extract, and Olive Leave Extract.  There's also Vitamin E for more antioxidant protection, and some emollient oils like Olive and Grape Seed Oil.
Since it's a face cream with sunscreen, you should apply Kiss My Face Cell Mate generously in the mornings.
Kiss My Face Cell Mate Pros and Cons
One of the best ways to figure out if a product is right for you is to list out the good and bad aspects so you can compare the two.
Advantages of Kiss My Face Cell Mate
It's got sunscreen.
It's reasonably affordable.
Some Kiss My Face Cell Mate reviews are positive, especially commenting on the scent and the fact that it's a light moisturizer.
Disadvantages of Kiss My Face Cell Mate
It doesn't have protection against UVA rays, which are the ones the age you,  (The UVB rays are the ones that burn you).
Some reviewers comment that the scent is strange and too strong.
There are also complaints from some people that Kiss My Face Cell Mate was irritating and made their skin break out.
Where to Buy
You can buy Kiss My Face Cell Mate from organic grocery stores as well as GNC.  You'll also find it online at the Kiss My Face Website and some other retailers.  The 1 oz tube retails for $21.  You may be able to find it for less if you look around.
Conclusion
I think we're going to have to stick with our original hunch on Kiss My Face Cell Mate.  It's a sunscreen, but it doesn't protect against UVA rays.  It's an anti-aging cream but its only anti-aging ingredients are botanical extracts, some of which are irritating to sensitive skin.  Even though good quality anti-aging creams with sunscreen aren't exactly jumping off the shelves, we think there are better choices than Kiss My Face Cell Mate.
Have You Used Kiss My Face Cell Mate?  Leave Your Review Below!
User Questions and Answers
User Questions and Answers
No Questions Have Been Answered For This Article.