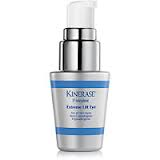 Kinerase Extreme Lift Eye Review – Worth the Price?
Kinerase Extreme Lift Eye Overview
There are several eye cream products out there that claim to give you the benefits of Botox or other injectable fillers.  They promise to relax your facial muscles and smooth out your skin, giving you that smooth canvas like you see on the Hollywood stars, these days even as they age into their 50s and beyond.
Kinerase Extreme Lift Eye is one of the creams that makes these claims.  They say that it's been clinically proven to smooth crow's feet and fill in wrinkles, while it lifts under the brow bone to give your eyes that refreshed, vibrant, younger look.  Though powerful, Kinerase Extreme Lift Eye claims also to be hypoallergenic, non-comedogenic, and safe for the fragile skin around your eyes.
Unfortunately, one of the more notable things about Kinerase Extreme Lift Eye is the high price.  So we took the time to look into the formula and search around for the honest opinions of women who've used it.  What follows is what we came up with.
Kinerase Extreme Lift Eye Ingredients and How They Work
To achieve this smoothing and lifting effect, Kinerase Extreme Lift Eye uses:
Peptide Complex to boost production of collagen to increase the firmness and elasticity of skin.  This smooth out skin and also provides the resilience and lift you need for the eye area.
Pepha-Tight is a skin-strengthening Algae extract that instantly tightens skin to smooth out the appearance of lines and wrinkles while it puts an end to any sagging lids.
Gatuline Expression is a plant extract that relaxes facial muscles.  This provides an instant visible reductions in lines and wrinkles.
Kinetin is the flagship ingredient of the Kinerase brand.  It helps prepare the skin to absorb the active ingredients while also encouraging new skin cell generation.
You should apply Kinerase Extreme Lift Eye to the skin under and around your eye after cleansing both morning and night.
Kinerase Extreme Lift Eye Pros and Cons
With full knowledge that there's good and bad in all things, we've made a list of the pros and cons regarding Kinerase Extreme Lift Eye so you can compare them and come up with an informed decision about whether or not to buy it.
Advantages of Kinerase Extreme Lift Eye
The

Kinerase Extreme Lift Eye

reviews that we saw were overwhelmingly positive.
Women seem to say that it really does lift and tighten the skin around the eyes.
You can sometimes find samples at Ulta and Sephora.
Lots of customers say they would buy it again despite the price.
Disadvantages of Kinerase Extreme Lift Eye
It's expensive.
It contains orange oil which can be irritating to skin, especially around the eyes.
Several reviewers mention that it has an unpleasant smell.
Where to Buy
You can purchase Kinerase Extreme Lift Eye online or in stores.  Brick and mortar beauty specialty stores like Ulta and Sephora carry it.  They also have it online as do a whole host of other online stores like Amazon and the Kinerase website.  The price varies a little, but is usually in the neighborhood of $95 for a ½ ounce pump.
Conclusion
Judging by the ingredients, we don't think Kinerase Extreme Lift Eye is really anything all that too very special.  But we can't argue with the hundreds of positive reviews we saw.  Back on the other hand, it's really expensive.  So here's what we recommend… Find a sample.  Go to Sephora or Ulta and see if they'll let you try it.  This way, if you do decide to shell out the big bucks, it'll be because you know you're getting something that's worth it to you.
Have You Used Kinerase Extreme Lift Eye?  Leave Your Review Below!
User Questions and Answers
User Questions and Answers
No Questions Have Been Answered For This Article.