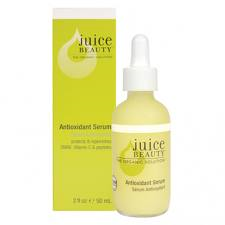 Juice Beauty Antioxidant Serum Review
Juice Beauty Antioxidant Serum Overview
It's pretty clear that antioxidants are necessary to slow down the appearance of aging skin.  They counteract much of the damage done by time, by sun, and by everyday pollutants in the environment.  They serve as a powerful defense against these unavoidable skin assailants.
Juice Beauty agrees, and answers the call with Juice Beauty Antioxidant Serum.  This lightweight serum, good for all skin types, feeds and hydrates your skin, and fights against wrinkles and lines.  They call it the perfect daily vitamin to use after cleansing and before moisturizing each day.  This stuff has even been clinically tested and shown to reduce skin cell damage from free radicals by up to 85%.
Juice Beauty Antioxidant Serum Ingredients and How They Work
Many of the actives in Juice Beauty Antioxidant Serum are natural and organic.  They include:
Organic White Grape Juice containing alpha-hydroxy acid for chemical exfoliation, resveratrol for powerful antioxidant action, vitamins A, B, and C for nourishment and additional antioxidant, as well as antibacterial and anti-inflammatory properties.
Organic Aloe Leaf Juice which is an anti-inflammatory and anti-irritant plant extract that soothes and heals damaged skin.
Organic Orange Juice which holds phytonutrients, minerals, lycopene, and alphahydroxy acid.  It exfoliates and protects against free radical damage.
Algae Extract, an emollient that hydrates and protects against oxidative damage.
Organic Grape Seed Oil is rich in antioxidants and it supports the production of new collagen.
Organic Borage Seed Oil which is an antioxidant rich in linolenic acid that promotes skin rejuvenation.
Organic Linseed Oil with protects with antioxidant properties and moisturizes, while it also acts as an anti-inflammatory.
Organic Evening Primrose Oil which is rich in fatty acids, is a potent emollient that nourishes and protects while it works as an anti-inflammatory as well.
You should warm 4 or 5 drops of Juice Beauty Antioxidant Serum in your hand and apply it to your face and neck twice a day after cleansing and before moisturizing.
Juice Beauty Antioxidant Serum Pros and Cons
Advantages of Juice Beauty Antioxidant Serum
It's loaded with antioxidants.
It has a nice citrus-y scent.
There are plenty of favorable Juice Beauty Antioxidant Serum reviews from women who claim it evens out their skin tone and smooths fine lines.
Disadvantages of Juice Beauty Antioxidant Serum
The clear bottle won't preserve the antioxidants.
If you allow

Juice Beauty Antioxidant Serum

to be exposed to light, the antioxidants will break down and become ineffective.
It's fairly expensive.
Some reviewers find it to be sticky.
The citris juice could be irritating to some women's skin.
Where to Buy
You can purchase Juice Beauty Antioxidant Serum through several online retailers.  The Juice Beauty website sells the 2 ounce bottle for $45.  Other retailers' prices are very similar.
Conclusion
We do like clinical studies, especially when they're independently done like this one.   Lots of happy customers is also a good sign.  Our only problems with Juice Beauty Antioxidant Serum are the relatively high cost and the fact that it comes in a clear bottle, leaving the antioxidants vulnerable to light exposure.  The two pros and two cons leave us pretty much on the fence about Juice Beauty Antioxidant Serum.  If you try it, be sure to let us know how you make out.
Have You Used Juice Beauty Antioxidant Serum?  Leave Your Review Below!
User Questions and Answers
User Questions and Answers
No Questions Have Been Answered For This Article.