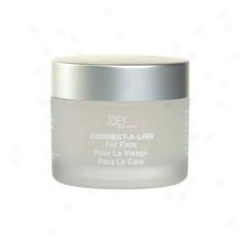 JOEY New York Correct-A-Line For Eyes Review
JOEY New York Correct-A-Line For Eyes Information
If you suffer from fine lines and wrinkles around your eyes it is of the utmost importance for you to quickly find a good moisturizer that will restore the plumpness and firmness to the skin around your eyes.  There are a number of eye creams on the market that claim to plump up the skin around the eyes, but many of the products do not produce very noticeable results.  Enter JOEY New york which offers a number of skin care products that are designed to quickly produce visible results that eliminate some of the most common signs of aging in the skin.  For almost two decades JOEY New York has been developing non-invasive skin care products that actually work.
How JOEY New York Correct-A-Line For Eyes Works and Ingredients
Hyaluronic acid is an important ingredient that appears in many eye creams that actually deliver on their promise to diminish wrinkles and fine lines as well as make the skin firmer and plumper.  This ingredient helps to keep the skin's tissues properly hydrated.  Correct-A-Line is an excellent moisturizer for under the eyes and this is part of the reason why significant visible results are apparent so quickly.  Hyaluronic acid is actually able to hold about a thousand times its weight in water, so it really works wonders in moisturizing the skin and helping it too look firm and fresh.  While there are not many natural ingredients listed on the full ingredients list, the fact that the active ingredient is so powerful is definitely a plus for Correct-A-Line.
JOEY New York Correct-A-Line For Eyes Pros and Cons
Even with the effectiveness of its main active ingredients it is important to weigh the pros and cons of Correct-A-Line as you decide whether you should try this product or look into one of the many other eye creams that are available.  Here are some of the benefits of JOEY New York Correct-A-Line For Eyes:
At $34 it is very reasonably priced
The main active ingredient, Hyaluronic acid, has been shown effective in diminishing the appearance of wrinkles in clinical trials
The product can also be applied to the lips to make them plumper as well
Then there are the drawbacks of Correct-A-Line that you need to be aware of:
There is a color additive Red #33 that has been shown to have severe skin reaction in some individuals
There are no before and after pictures on the websites to support the claims the product makes
Where To Buy JOEY New York Correct-A-Line for Eyes
If you love to shop from home through QVC you have likely already seen this product advertised on that channel.  In fact, the entire JOEY New York line is available through QVC.  If you are not really a big fan of the home shopping networks you can also purchase JOEY New York Correct-A-Line for Eyes on Amazon and through a number of boutique online retailers.  Wherever you choose to purchase this eye cream you will end up paying right around $34, which is the price on QVC.
Conclusion
Certain key active ingredients are essential to an eye cream that is going to successfully diminish signs of aging around the eyes.  If you are working on a limited beauty budget JOEY New York Correct-A-Line for Eyes is a great product to help make the skin around your eyes look younger while at the same time allowing you to add other beauty essentials to your arsenal.  Another definite plus of this product is that it produces results really quickly.  The JOEY New York skin care line is made up of products that show a passion for pampering the skin, so you should definitely give some of the products in this skin care line a try.
Have you tried JOEY New York Correct-A?  Leave your review below!
User Questions and Answers
User Questions and Answers
---
Q: Where can I buy Joey New York? -Debbie
A:
Hi Debbie, these must be old outdated products, because I only see them for sale on Ebay, which means they are OLD. If you need a great eye cream, check out Beautycounter Eye Rescue Cream. Very gentle and nothing toxic. xo Rachel
Was this question helpful to you?

---