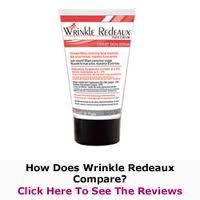 Wrinkle Redeaux is a highly touted anti-aging skin care crème brought to you by well known manufacturer Beaute de Paris who produces several other popular beauty products.  It proclaims it will increase your skin's hydration, eradicate skin discolorations, and reduce fine lines and wrinkles.  Of course, there are many products on the market that make those same promises.  How does Wrinkle Redeaux compare?
Wrinkle Redeaux:  How it Works and Its Ingredients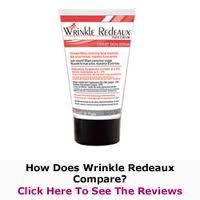 When you visit the Wrinkle Redeaux website, you'll find plenty of information about this product.  There is a complete list of ingredients and the results of clinical trials posted there are impressive, reporting an 83% increase in skin moisture in just 8 weeks plus a 56% decrease in fine lines and wrinkles.  They also show that women found their skin to be firmer, softer, and more luminous when Wrinkle Redeaux was used twice a day.
The active ingredients in Wrinkle Redeaux are a blend of peptides, proteins, antioxidants, vitamins, and emollients.  Working together, these ingredients help to plump the skin and effectively fade age spots, freckles, and other skin discolorations.  The antioxidants in Wrinkle Redeaux abolish free radicals, which cause skin damage, and the emollients, including Aloe Vera, work to heal, soothe, and moisturize the skin. The list of ingredients is long, but the clinical trials do provide evidence of this product's skin rejuvenating abilities.
The Pros and Cons of Wrinkle Redeaux
Here's what we think is positive and negative about Wrinkle Redeaux.  On the positive side:
Informative, user friendly website
Clinical trials results displayed
Secure online ordering process
Key ingredients explained
60-day money back guarantee
The negatives include:
Expensive
No customer testimonials at website
No free trial
Not available in retail stores
Where to Buy Wrinkle Redeaux
Wrinkle Redeaux is available at the official website as well as at Amazon and other online locations.  At this time, it is not available in retail stores.  The cost of one tube is $79.99.
Our Conclusions
We're impressed with the results of clinical trials shown on the website and appreciate the fact that there are quality skincare ingredients in the formulation of Wrinkle Redeaux.  Positive testimonials were found online from satisfied customers who purchased the product elsewhere than at the official website.  The only discouraging fact about this product is that it is expensive.  If you seriously desire to lessen the effects of aging on your skin and can afford Wrinkle Redeaux, you may find it is well worth the investment.
Check out our Top Wrinkle Creams
Have You Tried Wrinkle Redeaux?  Leave Your Review Below!
User Questions and Answers
User Questions and Answers
No Questions Have Been Answered For This Article.