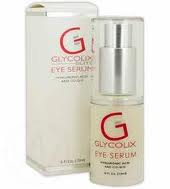 Glycolix Review – How Does It Work?
Glycolix Overview
One of the most important innovations in skin care in the last several decades has been the use of alpha hydroxy acids (AHAs) to improve the look and feel of all types of skin.  Basically, they work to speed up the natural process of shedding the outer layer of dead skin cells to reveal the softer, smoother, living skin tissue just beneath.  The Glycolix skin care line of products uses the most effective AHA – glycolic acid – to solve a number of skin problems including fine lines and wrinkles, hyper-pigmentation, and acne.  The product line includes cleansers, moisturizers, eye serums, acne treatment pads, and shampoos in a wide range of strengths to address different degrees of skin problems.
Topix Pharmaceuticals makes Glycolix using medical grade ingredients in their FDA approved R&D and manufacturing facility in Amityville, NY.  They partner with dermatologists and other medical professionals to come up with products that address the needs of their physician partners and their patients.
Glycolix Ingregients and How They Work
Healthy skin naturally sheds its outer layer of dead cells every 28 days or so.  With age and other environmental factors, this process slows down and dead skin cells bind together to block the healthy living tissue from rising to the surface.  Glycolic Acid, the main active ingredient in Glycolix, breaks up and removes these dead skin cells.  This process helps improve acne because by removing the dead skin that clogs pores, it removes on of the major causes of breakouts.  It also penetrates into the living skin cell and attracts moisture to them.  This, and the exfoliation helps to reduce the look of fine lines and wrinkles, and gives your skin that healthy glow.
In addition to Glycolic Acid, Glycolix contains many other useful ingredients.  The acne fighting products, like Glycolix pads, contain Salicylic Acid, a beta hydroxy acid that also works to shed dead skin cells and unclog pores.  The moisturizing products, like Glycolix eye serum, contain antioxidants, like green tea extracts and Vitamins C and E, to help remove free radicals that are known to contribute to faster skin cell aging.  And all Glycolix products contain nourishing agents to add to the overall health of your skin.
Glycolix Pros and Cons
Advantages of Glycolix
It offers a wide variety of products to address many skincare needs.
It is made by a reputable pharmaceutical company and is recommended by dermatologists for a wide range of skin problems.
The Manufacturer says it is rigorously tested to ensure that it is hypo-allergenic and non-comedegenic (won't clog pores).
Glycolix Reviews are generally quite positive.
Glycolix products are available through both dermatologists and many online sources.
Disadvantages of Glycolix
Glycolic acid can cause redness and irritation.
Glycolic acid causes increased sensitivity to sun exposure, so it is extremely important to always wear sunscreen when using these products.
There does not appear to be a money back guarantee.
Where to Buy Glycolix
The Glycolix line of products is available through many reputable online skin care product retailers. Prices may vary slightly, but most of the products seem to run from $10 to $30 based on formulation and strength.  Shipping prices can vary quite a bit, so it is worth spending the time to find the best combination of product prices and shipping prices.  Glycolix is also available through many dermatologists. I was unable to determine those prices, but I imagine they would be somewhat higher than what can be found online.
Conclusion
Topix makes high quality, well tested products that meet all FDA guidelines.  Glycolix is recommended and offered by many dermatologists and skin care specialists.  However, as with any skin care product, the only way to know if it works for you is to try it.  If your dermatologist carries Glycolix products, you may be able to get some samples so you can try them risk free.  If not, at $10 to $30, buying one of the products online is not too great of a risk either.
Glycolix doesn't make grand promises to erase all signs of aging, but it does claim to give you visibly smoother, healthier looking skin.  And it would seem that the ingredients have been proven to do so.  Given its recommendation by dermatologists and its relatively low cost, I would recommend trying Glycolix if you're looking for a daily regimen to give you smooth, healthy-looking skin.
Have You Used Glycolix?  Leave Your Review Below!
User Questions and Answers
User Questions and Answers
No Questions Have Been Answered For This Article.