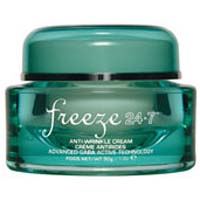 Freeze 24/7 Anti Wrinkle Cream Reviews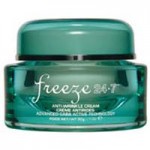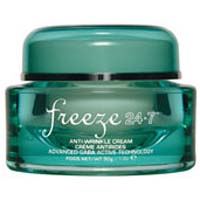 We read some of the information on the Freeze 24/7 anti aging cream website and realized that we had to do a review. This is because they were claiming that their clinical trials yielded some wildly impressive results. For example, they said that ALL of the subjects in their test saw a 50-90% reduction in their wrinkles within ten minutes of application. Though we would like to know that such a miracle product exists, we read the ingredients and recognized that their claims must include a large measure of hyperbole. Why?
Ingredients in Freeze 24/7
The ingredients are Aqua (Water), Glyceryl Stearate, Sesamum Indicum (Sesame) Seed Oil, Caprylic/Capric Triglyceride, PEG-150 Distearate, Cetyl Alcohol, Cetearyl Alcohol, Gynostemma Pentaphyllum Extract, Aminobutryic Acid, Ethoxydiglycol, Eugenol, Butylene Glycol, Xanthan Gum, Methylparaben, Propylparaben, Ethylparaben, Orchis Maculata Flower Extract, CI 77163 (Bismuth Oxychloride). None of these compounds could generate a reduction of wrinkles or lines at the rate of speed described. Though the company says that these ingredients form a patent pending system called Ageless Technology, we would prefer to see independent testing, or at the very minimum some doctor testimonials.
Where to Buy
Freeze 24/7 is available widely online at regular cosmetics sites and the big box shops. There is no guarantee available.  Freeze 24/7 costs $65 through the official website, with some vendors asking around $51 for the same product. There is guarantee and all sales are final on their site.
Pro's and Con's
There are more cons than pros for this formulation. The negative factors are:
There is no guarantee;
The product's makers are claiming results that are unbelievable;
There is no clinical data available;
The cost is too high; and
This is not a product for all skin conditions.
Among the few "pros" would be:
This product does use a proprietary blend of ingredients that might create good results over the long term;
This is available online; and
It can address some of the most visible signs of aging.
Recommendation
We cannot recommend the Freeze 24/7 anti aging product because of its unbelievable and unproven claims. If they could provide independent test results showing that all of the testers really did have results in less than ten minutes then we would not hesitate to recommend it, but there is no such evidence available. The cost and lack of a guarantee also tell us that this is not a product to use when seeking to address the most common signs of aging.
Have You Used Freeze 24/7?  Leave Your Review Below!
User Questions and Answers
User Questions and Answers
No Questions Have Been Answered For This Article.