Elemis Pro Collagen Cream Review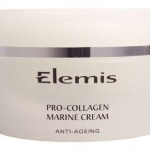 A noted entry in the world of eye creams, the Elemis Pro Collagen Marine Cream treatment uses some of the most recognized ingredients to minimize fine lines, eliminate dark circles, and improve the condition of the skin. It does so by addressing the level of collagen in the skin.
Ingredients in Elemis Pro Collagen Marine Cream
The formula is considered light enough to be worn with makeup, and uses a proprietary blend of Padina Pavonica, various Amino Acids, Beta Carotenes and Vitamins B, C and E taken from Blue Green Micro-algae. There is also an antioxidant blend that is a seaweed derivative and which reaches some of the deeper levels of the skin as well. The results are smoother and firmer skin around the eyes, a lessening of dark circles and puffiness, and a general improvement in the skin. When applied according to the directions, the product is meant to create noticeable improvements in a matter of weeks. One thing we did notice is that the formula has no sunscreen added to the mix, which is surprising for a daytime compound.
Where to Buy
Elemis Pro Collagen Cream is usually available from high end department stores and many upscale cosmetics sites. There is no guarantee, though a retailer may have refunds available.
Pro's and Con's
There are some pros and cons for this product. The negative issues would include:
This is quite expensive;
There is no clinical data available;
Some users complain that it clogs the pores or does not work with  makeup;
There is no guarantee; and
The ingredients are not explained in greater detail.
The positive factors would include:
This is easily absorbed;
Works to increase the collagen in the skin;
Can be found in many stores and online shops; and
Emphasizes natural ingredients.
Best Price
Currently, most vendors offer Elemis Pro Collagen Cream for $99, but as already mentioned, there is no guarantee available. Some vendors may make refunds available to buyers of this product.
Recommendation
We do recommend this to buyers who are not hesitant due to the price. If you are worried about the high price tag and the lack of a guarantee, we suggest you choose another product because you will not want to risk being disappointed. We do believe that elemis pro collagen marine cream is not likely to fail its buyers, but the absence of clinical data, a guarantee, and the high purchase price make this a product that is not suitable for a wider audience.
Have You Used Elemis Pro Collagen Marine Cream? Leave Your Review Below!
User Questions and Answers
User Questions and Answers
No Questions Have Been Answered For This Article.