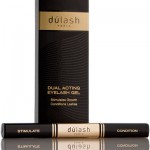 Dulash Eyelash Enhancer Review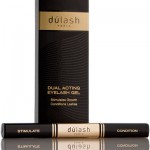 Do you ever just wish you could just snap your fingers and have longer fuller lashes?  Well, I think that most women would say that was a definite yes!  The fact is that you simply cannot do that.  There is nothing that will magically make your lashes appear better overnight.  That being said, there are some products on the market that will help them to grow fuller and longer within just a few weeks.  The thing you need to be careful about when using these products is that there are some that can have adverse side effects.  Lets take a look a DuLash and see how it checks out.
Product Overview
Dulash labels itself as an eyelash growth stimulating and conditioning system.  The idea is that if the gel is applied regularly to the base of the eyelashes it will stimulate growth over the four week period.  If the issue is merely weak lashes then they can be strengthened by applying Dulash directly to the lashes.  This product also promises not to cause any change in lash coloration or change in eye color, and it contains no prostaglandin, either natural or synthetic, which has been shown to be harmful.  Dulash can be used in combination with any mascara, eye shadow, or eye liner without any harmful side effects.
Consumer Review
One consumer that tried this product stated:
"Not all eyelash enhancement products are easy to use but Dulash earns bonus points for its ease of use.  Many products require that application only be made to the eyelid or the base of the lash line.  The product uses two brushes to take care of the entire eyelash, both the growth part and the conditioning part.  The product promised results in four weeks, and the product produced results in four weeks.  It works well with mascara and eye liner as promised, and it dried quickly so it was an easy addition to the morning makeup routine.  My lashes definitely look thicker and a bit longer as well."  – Sarah, Alabama
Pricing and Availability
When it comes to availability options you can select from several different online retailers that carry Dulash.  If you go correctly to the company website you can purchase it for $95.  Amazon does not offer you a cheaper option for purchase, but many people feel more comfortable using Amazon because of the buyer protections that it provides.  The one additional benefit of buying it from the  company website though is that the shipping and handling is always free, whereas on Amazon sometimes the shipping is covered and sometimes it is not.
Conclusion
Dulash is expensive, but it does work.  You must be willing to give the product the full four weeks in order to see the desired results.  It is of not the Dulash works better to thicken lashes while its ability to make lashes longer is not quite so strong.  The multi-brush system allows you to grow, strengthen and condition your eyelashes all while still wearing your favorite makeup and eye shadow.  This point cannot be underestimated since some eyelash growth enhancers do not allow for eye shadow and mascara to be used at the same time as the product.  Using Dulash multiple times during the day is the best way to get the results you are looking for.  If you can be patient you will be rewarded with the thicker eyelashes that you long for.
User Questions and Answers
User Questions and Answers
No Questions Have Been Answered For This Article.