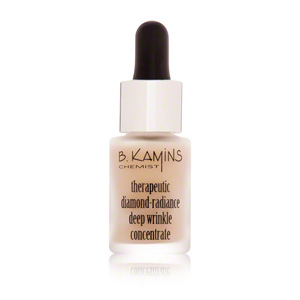 Diamond Radiance Deep Wrinkle Concentrate Review
Diamond Radiance Deep Wrinkle Concentrate Overview
For everyone not willing or able to endure or afford Botox or injectable fillers, there are all sorts of cosmetic alternatives that claim to be just as good. Let's start right off by admitting that these serums and creams certainly won't give you the level of results you'll get with actual procedures. But if we lower our expectations to a slightly more reasonable level, we can look at these formulas realistically, and see if they have a benefit commensurate with the price.
The one we chose to talk about today is Diamond Radiance Deep Wrinkle Concentrate from B. Kamins Chemist. The claims it makes are very bold right out of the gate. They say this product is unprecedented as an at-home alternative to invasive (needle involving) procedures. The expected results are a lifting, plumping, and tightening of deep-set creases around your eyes, mouth, and forehead. And as for the specifics of the benefits, you can expect:
A stimulation of collagen production and skin cell regeneration to help skin look younger and firmer as time goes on.
Targeted firming of visible wrinkles, lines, and deeper creases.
Light refraction to draw the eye away from lines and wrinkles.
Antioxidant protection against free radical damage.
Diamond Radiance Deep Wrinkle Concentrate Ingredients and How They Work
This is a water based serum, and it contains:
Acetyl Hexapeptide-8 which can relax facial muscles to reduce the look of expression lines now and into the future.
Dimethicone to provide a smooth, silky surface.
Solluble Collagen to lift and firm skin.
Hyaluronic Acid to attract and bind to water and plump out lines and wrinkles.
Algae Extract which can hydrate as well as provide antioxidant protection.
Glycerin which provides skin-identical hydration.
Diamond Powder which provides light refraction for that smooth, soft-focus look.
The recommended use is morning and night after cleansing and toning, following up with a moisturizer (and sunscreen during the day).  Apply a few drops of Diamond Radiance Deep Wrinkle Concentrate to clean fingers, then tap it onto lines and wrinkles.
Diamond Radiance Deep Wrinkle Concentrate Pros and Cons
Advantages of Diamond Radiance Deep Wrinkle Concentrate
It contains several effective anti-aging ingredients.
The opaque eye dropper bottle will for the most part keep the active ingredient stable and effective.
Disadvantages of Diamond Radiance Deep Wrinkle Concentrate
It's extremely expensive.
There are no Diamond Radiance Deep Wrinkle Concentrate reviews from customers anywhere online. This makes it really tough to figure out whether or not a product works. Customer feedback in an independent setting is key to determining if a product is worth trying.
Where to Buy
You can purchase Diamond Radiance Deep Wrinkle Concentrate through the B. Kamins website or a few other online retailers. Brace yourself. The ½ ounce bottle retails for $240. Ouch.
Conclusion
If only there were some super-glowing reviews from customers talking about how they can't live without Diamond Radiance Deep Wrinkle Concentrate, we might be able to recommend this extremely pricey product. Without those, it's really tough to encourage anyone to spend that kind of money. My advice, let someone else be their guinea pig. And if you're interested, wait to see what they have to say.
Have You Used Diamond Radiance Deep Wrinkle Concentrate? Leave Your Review Below!
Click here to submit your review.
---
Mrs.
Diamond Radiance Deep Wrinkle Concentrate Review
I have been using B.Kamins diamond radiance Deep Wrinkle Concentrate for 1 week twice a day on deep set wrinkles and see a remarkable improvement. I am delighted with this product and will keep using this forever .Yes it is expensive but this amount will last a long time so money well spend in the long run. I love it.

---
User Questions and Answers
User Questions and Answers
No Questions Have Been Answered For This Article.