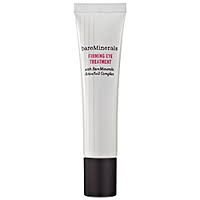 bareMinerals Firming Eye Treatment Review
bareMinerals Firming Eye Treatment Overview
I have always said that if an eye cream doesn't address those pesky issues that specifically plague the skin around our eyes, then I see no sense in using it at all. In other words, if it's only providing hydration and the kind of anti-aging effects and benefits needed by all the skin on your face, then why bother calling it an eye cream at all? (The real reason is that they can charge more for less if it's an eye cream, but that's a story for another day). So in my opinion, the only eye creams worth looking at provide relief for puffiness, crepiness, dark circles, or any skin issue particularly associated with the eyes.
bareMinerals Firming Eye Treatment covers a couple of these issues. Its firming action lifts and tightens up sagging or crepey lids and reduces puffiness. Those are the claims anyway. But we've seen quite a few customer reviews that would have us believing otherwise. So here's where we dive in by taking a look at the ingredients to see what truth we can tease out.
bareMinerals Firming and How They Work
The main active ingredient in the bareMinerals Firming Eye Treatment formula is what they call RareMinerals Active Soil Comlex. This is basically a collection of minerals that derive from, well, dirt. These minerals support the natural cell turnover in skin and provide antioxidant protection as well.
But that's not all. There are tons of other anti-aging and skin-improving ingredients in this formula as well:
Glycerin for hydration that won't irritate.
Shea Butter for emollience.
Caffeine to stimulate circulation in the capillaries under the eyes, for lightening dark circles.
Olive Oil for hydration and antioxidant protection.
Vitamin E for antioxidant protection.
Peptides to encourage collagen production for firmer, more lifted skin.
Ceramides to reinforce skin's moisture barrier.
Mica to reflect light away from dark circles under the eyes. (This is more cosmetic than skincare, but it does lessen the appearance of dark circles).
The recommended bareMinerals Firming Eye Treatment usage is morning and night. You're instructed to apply six dots from the brow bone down to to the under eye area, forming a half circle. Then tap in until absorbed.
bareMinerals Firming Eye Treatment Pros and Cons
Advantages of bareMinerals Firming Eye Treatment
It contains several anti-aging ingredients.
It addresses the primary issues of skin around the eyes.
Some bareMinerals Firming Eye Treatment reviews from customers who've used it are very favorable.
It's widely available online and in stores.
The tube packaging maintains the integrity of the ingredients that need to be protected from light and air.
Disadvantages of bareMinerals Firming Eye Treatment
There are several bareMinerals Firming Eye Treatment reviews from customers stating that it isn't hydrating, that it makes foundation cakey, and that it can be irritating.
Where to Buy
You can purchase bareMinerals Firming Eye Treatment online or in stores like Ulta and Sephora. The ½ ounce tube retails for $28.
Conclusion
I wanted to like this stuff. It has plenty of great components, but it would seem that the whole does not turn out to be greater than the sum of its parts in this case. There are just too many people who've had bad experiences with bareMinerals Firming Eye Treatment or just plain don't find it to work.
Have You Used bareMinerals Firming Eye Treatment? Leave Your Review Below!
User Questions and Answers
User Questions and Answers
No Questions Have Been Answered For This Article.