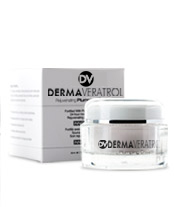 DermaVeratrol Review – Is it Worth It?
DermaVeratrol Overview
DermaVeratrol anti-aging cream says you can "unlock true beauty without surgery of Botox."  This product is one of many that claims to reduce wrinkles, give skin back its youthful radiance, and make you look years younger after just a few weeks worth of treatment.  Does it really work?
DermaVeratrol – Its Ingredients and How it Works
DermaVeratrol has an informative, user friendly website that tells us this anti-aging cream is all natural, fragrance free, and paraben free. The site includes clear explanations of what the ingredients do and offers before and after pictures.
There are several well known  anti-aging ingredients in the formula, including hyaluronic acid, Resveratrol, Vitamins C and E, Retinyl Palmitate, Palmitroyl Tripeptide 3, Aloe Vera, and ascorbic acid.  Some of these ingredients  have been clinically proven to improve aging skin and are used to promote collagen production, reduce wrinkles, and plump, brighten, and firm the skin. Others are effective antioxidants that promote healthy skin. Unfortunately, the website does not reveal the complete list of ingredients.
The website promises your skin will feel better after just two days of use and in four weeks visible improvements will be significant.  The website does include before and after pictures and says that DermaVeratrol should be used twice a day. It claims to be safe for all skin types and may be used with cosmetics or without.
DermaVeratrol has a 30-day satisfaction guarantee.  The one problem with that is that you are only given 14 days to try the product before you make a decision.  Since we're told full benefits won't be seen for 30 days this seems a bit strange.
Where to Buy DermaVeratrol
You may order DermaVeratrol from the official website.  You are offered a 14-day free trial but you will have to pay for the product eventually and you will be enrolled in their autoship program if you don't cancel your membership.  The terms of service are clearly stated so they are not trying to hide the autoship enrollment as some companies do.
You may also order the product on a month to month basis without enrolling in the program, but not if you request the free trial.  The cost of one jar of DermaVeratrol is $89.99 but there are discounts available for mufti-jar purchases.
DermaVeratrol Pros
Contains proven ingredients
Paraben free
All natural formula
Informative website
30-day guarantee
DermaVeratrol Cons
Complete ingredients list not revealed
Expensive
Autoship program can be a hassle
Only given 14 day free trial though it takes 30 days to achieve optimum results
Our Conclusions
DermaVeratrol certainly contains some impressive ingredients.  We also like the fact the it consists of all natural ingredients and does not contain any parabens. There really is no reason to discourage trying this product except to caution you about getting caught up in an autoship program you may not want.  We do think there are other effective products on the market for a lower price, but if you wish to spend the money, DermaVeratrol could be the anti-aging skin cream you've been seeking.
Have You Tried DermaVeratrol?  Leave Your Review Below!
User Questions and Answers
User Questions and Answers
No Questions Have Been Answered For This Article.