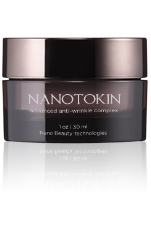 Nanotokin Review – Is it Effective?
Nanotokin Overview
There are so many products claiming to reduce wrinkles and improve the appearance of aging skin, it's hard to know which one to choose.  Nanotokin is a skin cream that claims to do all the other things similar products say they do; reduce fine lines and wrinkles, make skin appear healthier and younger, and boost collagen and elastin production.  Although Nanotokin sells for less than many similar products, is it really effective?
Nanotokin – Its Ingredients and How it Works
There is an informative, user-friendly website for this product that provides a lot of information.  Nanotokin boasts that it contains the highest percentage of peptides of any wrinkle cream on the market.  Its formula includes 12 patented and clinically proven peptides, making up 35% of the solution.  The list of ingredients, which is provided and explained in detail at the official website, really is impressive.  It includes a bounty of ingredients that are well respected for their anti-aging qualities.
The formula contains 5% Argireline NP, a muscle relaxer that has a similar effect to Botox, though Argireline NP is safer and does not require injections. Matrixyl 3000 makes up 5% of the formula, as does Syn-Coll, an amino acid chain that helps reduce wrinkles. The list of proven ingredients goes on to make this all natural formula rich with the most popular anti-aging agents in use today. There are results from clinical trials on many of these ingredients available at the Nanotokin website.
This site also includes a good explanation of why peptides are important to aging skin.
The website says you'll be able to feel a difference in your skin after just one use and within two weeks you'll be able to see significant  improvements.  By the end of 30 days you should expect a "dramatic transformation".
Where to Buy Nanotokin
Nanotokin is available at the  official website for $49.99 for a 30 day supply.  At the time of this writing, if you purchased two or more jars of Nanotokin, you would also receive their 7-Second Eye Lift  free.  They have live chat available if you have questions and complete contact information is provided.  Nanotokin is available at other online retailers for competitive prices, however, it is simpler to buy from the off the official website in case you do decide to return the product.  Price differences were minimal.
Nanotokin Pros
Informative, user friendly website with complete contact information provided
Contains 14 proven ingredients, 12 of them peptides
Lower price than some similar products
Before and after pictures provided
90-day money back guarantee
All natural product
Free eye lift with two jar purchase
Nanotokin Cons
Although many of its ingredients have been proven there have been no clinical trials on the product itself
Not available in retail stores
Our Conclusions
I have to admit, this product seems impressive.  The website is professional, secure, and user friendly.  It contains a high percentage of proven ingredients and the price is more reasonable than many products that do not have such an abundance of valuable peptides. We'd love to see Nanotokin itself clinically tested, but even without that evidence, I feel that this could be a good solution formany people looking to improve their aging skin.
Have You Tried Nanotokin?  Leave Your Review Below!
How Women Found This Review:
and Nanotokin reviews, and nanotokin
User Questions and Answers
User Questions and Answers
No Questions Have Been Answered For This Article.