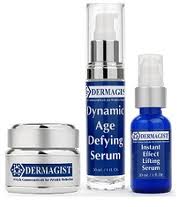 Dermagist Complete Rejuvenation System Review
The fight against aging skin needs to be fought on more than one front.  Certainly, you want instant wrinkle reduction.  But you also want something that will work to correct the problem at the core, reverse the current signs,  and prevent the future signs of aging.  Dermagist Complete Rejuvenation System has you covered all the way around.  Designed to work together, the system combines 3 products that provide immediate results and enduring age reduction.
Dermagist Complete Rejuvenation System Ingredients and How They Work
The Dermagist Complete Rejuvenation System comes with 3 distinct products, each designed to work together to give you younger-looking skin now and as you continue to age:
Original Wrinkle Smoothing Cream is a rich cream formula containing Matrixyl as its active ingredient.  Matrixyl is a peptide that encourages the skin to produce collagen.  Collagen is what keeps young skin firm, smooth, and elastic.
Dynamic Age Defying Serum also contains Matrixyl to help skin produce lost collagen.  But it goes further by including Renovage which has been clinically tested and shown to treat multiple signs of aging including sagging, age spots, redness, dry skin, enlarged pores, and irregularities of the skin's surface.
Instant Effect Lifting Serum uses a sesame extract, Sesaflash, to provide instant wrinkle smoothing and tightening with no discomfort.  It does this by providing moisture at the same time that it tightens.  The serum then goes on to use Matrixyl, the powerful peptide that helps build collagen in the skin.
Dermagist Complete Rejuvenation System comes with a complete set of instructions.  You should use the Original Wrinkle Smoothing Cream alone for a 2 days first to prep your skin for the other formulas.  You are expected to see some results, especially from the lifting serum, immediately, and more complete results like minimized pores and lightened age spots should be seen in about a month's time.
Dermagist Complete Rejuvenation System Pros and Cons
Deciding to buy three skin care products at once isn't easy.  You want to make sure you understand all the potential benefits and drawbacks up front.
Pros
The set comes with all 3 products designed to work together.
There is a substantial discount when buying the system as opposed to the individual products.
It contains clinically proven ingredients.
It comes with a detailed instruction sheet.
The Dermagist Complete Rejuvenation System comes with a 30 day money back guarantee.
The website shows testimonials and before-and-after photos.
Cons
The complete ingredients are not listed on the website.
It's only available through the Dermagist website.
Dermagist, formerly known as Dermajuv, has been given an F rating by the Better Business Bureau due to numerous complaints, particularly regarding their money back guarantee.
Where to Buy
If you decide to purchase Dermagist Complete Rejuvenation System, you can do so only at the Dermagist website.  It will cost $129.99, which is a $108.00 savings over buying the products individually.  There is a money back guarantee, but be aware that if you decide to return the products, you will be charged for shipping in both directions plus a $7 restocking fee for each bottle that you return.  Given that the kit contains 3 bottles, that could lead to a substantial outlay even if you determine that the products don't work for you.
Conclusions
Dermagist Complete Rejuvenation System claims that you will see dramatic results both immediately and over the long term.  The website offers several pictures and testimonials that support this claim.  They also refer to clinical trials proving the effectiveness of the key ingredients contained in the products.  On the other hand, the internet is full of evidence that the customer service provided by this company is less than stellar.  With all the skin care creams available on the market, it's difficult to determine what works and what doesn't.  While the Dermagist Complete Rejuvenation System may indeed be effective, we think you'd be better off going with a product that doesn't rely on restocking fees and delayed refunds to make its money.
Check out our Top Wrinkle Creams
Have You Used Dermagist Complete Rejuvenation System?  Leave Your Review Below!
Click here to submit your review.
---
Dermagist Complete Rejuvenation System Review
I totally disagree with the negative customer service rating. My order didn't arrive on time (I paid for rush shipping) and the customer service agent went above and beyond to make it up to me.
As far as the products are concerned, they are hands down amazing!
I don't usually write reviews, but I had to in this case.

---
User Questions and Answers
User Questions and Answers
---
Q: I purchased Dermagist System from Amazon but received no instructions on how to use the product. Could you send me directions please. -Cheryl
A:
Cheryl, this is what drives me crazy about companies like Dermagist. They have no real website, no real manufacturer site and I can't find any instructions any where. Do you have the three piece set as show in my review? If so, I would cleanse the skin, then apply the Lifting Serum, allow to absorb, then the Age Defying Serum, and finally the cream to seal everything in. If this set comes with a separate eye cream I would put that on first that way you don't smear the other ingredients up into the eyes. I hope this helps. If there is any paperwork with the packaging with either an email or a phone number I would reach out to them and ask them to email you instructions. Rachel
Was this question helpful to you?
3 out of 3 people found this question helpful.
---
Q: I want to try your product but am discouraged by your F rating by the BBB. How do you respond to those negative claims? -Cindy
A:
Hi Cindy, I don't give Dermagist a glowing review on my blog for this reason. It's not my product, but the reason it has an F rating is because it has poor customer service and the website is a bit shady not listing its ingredients. I would not purchase. Stick with a more trusted brand. Check out my review on Beautycounter's facial oils or their Countermatch Adaptive lotion - this is a great line to try. Thanks for your question! Rachel
Was this question helpful to you?
1 out of 1 people found this question helpful.
---
Q: I ordered the complete rejuvenation three step system but it did not dome with directions. I am not sure how I am supposed to use it. Pease send me instructions. I looked on the website but was unable to find them. -Clara gomes
A:
Clara, Dermagist Complete Rejuvination System should have come with detailed instructions, I'm sorry I don't have them.  I would call them and ask them to email you the instructions. Dermagist's phone number is: (888)771-5355. I'm sure they will be happy to send it to you. Please let me know how you like this skin care. It looks promising, but I know my review wasn't 100% favorable. Rachel~WomensBlogTalk.com
Was this question helpful to you?

---