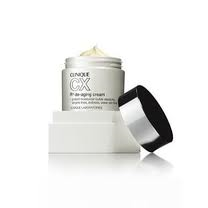 Clinique CX R+ De-Aging Cream Review – Worth the Price?
Clinique CX R+ De-Aging Cream Overview
If you're a skincare junkie like we are here at WomensBlogTalk, you know that skincare prices vary from the price of a Starbucks coffee to the price of a fairly big screen tv.  That's okay.  We live in a capitalist economy.  Most people probably know that if you pay $3 for a wrinkle cream, you're not getting cutting edge ingredients.  Conversely, if aging gracefully is a priority to you and you can afford top of the line creams and serums, everybody wins… as long as they work.
So today we're looking at the high end Clinique CX R+ De-Aging Cream to see if it's worth the high end price.  CX is Clinique's upper end line, and it's exclusively sold in just a few department stores.  In fact, it's not even sold on the Clinique website.  And they're pretty tight-lipped about the product as well. The specific claims of Clinique CX R+ De-Aging Cream are that it's a potent moisturizer that increases skin's elasticity, minimizes lines, and leaves you with brighter, more even skin.
Clinique CX R+ De-Aging Cream Ingredients and How They Work
Finding out what actually goes into Clinique CX R+ De-Aging Cream was a bit of a challenge.  But when we did, we weren't disappointed:
Micro-encapsulated Retinol to encourage skin cell turnover.
Botanical Antioxidants.  Lots of them in fact.  These will help protect and defend skin against the ravages of the environment as it ages.
Peptides to help encourage the production of collagen for greater elasticity.
Whey Protein and Yeast Extract to strengthen skin's connective tissue.
Vitamin E for nourishment and additional antioxidant protection.
Sodium Hyaluronate to increase hydration and plump out wrinkles.
Linoleic Acid to improve skin's protective moisture barrier.
Recommended use has you applying Clinique CX R+ De-Aging Cream to your face and neck morning and night.
Clinique CX R+ De-Aging Cream Pros and Cons
Advantages of Clinique CX R+ De-Aging Cream
Disadvantages of Clinique CX R+ De-Aging Cream
It is very expensive.
The jar packaging will cause the antioxidant ingredients to lose their effectiveness, not to mention that it encourages bacteria growth.
Where to Buy
You can only buy Clinique CX R+ De-Aging Cream from a few department stores like Neiman Marcus, Bergdorf Goodman, and Saks Fifth Avenue.  It's so exclusive that even the Clinique website doesn't offer it.  The 2.5 ounce jar sells for $225.
Conclusion
There can be all sorts of reasons to buy high end skincare.  Some people simply live by the principle that if it's expensive it must be good.  Unfortunately, most of us can't afford to follow that principle.  We may be willing to shell out the big bucks, but the product had better offer something really special.  I do not think this is the case for Clinique CX R+ De-Aging Cream.
Have You Used Clinique CX R+ De-Aging Cream?  Leave Your Review Below!
Did you know that bright, even-toned complexion is the #1 skin trait that helps us look younger? Even if you have some wrinkles (don't we all?), keeping your skin bright and radiant is key!
This is exactly why all my favorites are all packed with antioxidants, plenty of vitamins and minerals, and of course hydrating and collagen-building ingredients to plump and nourish the skin!
User Questions and Answers
User Questions and Answers
No Questions Have Been Answered For This Article.