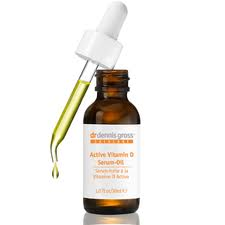 Active Vitamin D Serum-Oil Review
Active Vitamin D Serum-Oil Overview
You've probably heard the buzz going around about how many of us are turning out to have a Vitamin D deficiency.  Since sunshine is one of the primary sources, those of us who try to protect our skin from the hazards of UV rays may be unintentionally causing other problems.  Vitamin D deficiency can cause all kinds of health problems, including weakened bones and increased risk of cardiovascular disease.  As a result, many people take Vitamin D supplements.  Dr. Dennis Gross believes you should be supplementing topically, and offers Active Vitamin D Serum-Oil to get the job done.
Active Vitamin D Serum-Oil is a unique product that serves the dual purposes of providing anti-aging skincare along with daily Vitamin D supplementation.  It makes sense when you think about it.  Taking better care of our skin is one of the biggest reasons for the widespread deficiency, so why not use skincare to give it back?  So lets get into the details of all that Active Vitamin D Serum-Oil attempts to do and how well it accomplishes its goals.
Active Vitamin D Serum-Oil Product Details
Active Vitamin D Serum-Oil is very much an all around anti-aging serum.  In addition to providing your daily dose of Vitamin D, other promised benefits include boosted hydration and elasticity, a smoothing of fine lines and wrinkles, increased radiance and luminosity, and lightening of dark spots. Now if it does all that, Active Vitamin D Serum-Oil is definitely a keeper.  So let's look at the ingredient list to see if it can back up the big claims.
Vitamin D comes in the form of Ergocalciferol, which has been shown to work topically to protect skin from sun damage.
Ferulic Acid is a powerful antioxidant to fight against environmental damage causes by free radicals.
Retinol encourages skin cell turnover for smooth new radiant skin.
Sodium Hyaluronate to hydrate and plump out lines and wrinkles.
Arbutin to lighten hyperpigmentation.
Lactic and Glycolic Acids to exfoliate skin to reveal the younger skin beneath.
Essential Oils.
The instructions are to apply 2 or 3 drops to face and neck both in the morning and at night.  You can use a moisturizer over Active Vitamin D Serum-Oil if desired.
Active Vitamin D Serum-Oil Pros and Cons
Advantages of Active Vitamin D Serum-Oil
It's anti-aging skincare that also provides the benefit of Vitamin D supplementation.
Most of the Active Vitamin D Serum-Oil reviews we found were very glowing.
It contains many great anti-aging ingredients.
Disadvantages of Active Vitamin D Serum-Oil
It's expensive, especially if it is an additional product to your regimen and not replacing one.
Some people may not like the eye dropper dispenser.
It may be too oily for those with acne prone or oily skin.
Where to Buy
You can purchase Active Vitamin D Serum-Oil online through the Dr. Dennis Gross website or any of a number of other online resellers.  It's also available at Sephora.  The 1 ounce bottle retails for $65.
Conclusion
Active Vitamin D Serum-Oil seems like a great idea as long as it works, and judging by the reviews, it does.  Most women say their skin has never been softer or smoother, and they like the fact that they're also "getting their vitamins."  We would recommend Active Vitamin D Serum-Oil to anyone except those with oily skin.  If you want to try it and you're still on the fence, take a trip to Sephora and see if you can try a tester or better yet, get a sample.
Have You Used Active Vitamin D Serum-Oil?  Leave Your Review Below!
User Questions and Answers
User Questions and Answers
No Questions Have Been Answered For This Article.