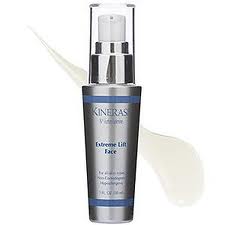 Kinerase Extreme Lift Face Cream Review – Does It Work?
Kinerase Extreme Lift Face Cream Overview
In the fight against aging, we have lots of weapons to choose from.  Some anti-aging creams are mainly preventative, with the goal of slowing and delaying the appearance of wrinkles, spots, and sagging.  Others attempt to instantly transform your look and allow you to present a younger-looking face every time you walk out the door.  Kinerase Extreme Lift Face Cream claims to be a skincare breakthrough that rivals the effects of Botox and surgery by smoothing and filling in wrinkles on the spot.
The promise is skin that looks 10 years younger in 5 minutes, and even more improvement as you use it over time.  The Kinerase company offers several lines of anti-aging skin care products, all based on the power of Kinetin, a plant-based antioxidant that was discovered as an anti-aging ingredient when it prevented leaves from drying out.
Kinerase Extreme Lift Face Cream Ingredients and How They Work
The Kinerase website lists all of the ingredients and goes on to explain a bit about how the main actives work:
SNAP-8 is a neuropeptide that smooths wrinkles caused by repetitive facial expressions such as smiling and squinting.
Pepha-Tight is an algae extract that instantly tightens skin which has the effect of smoothing wrinkles.
Gatuline Expression is a plant extract that relaxes facial muscles.
Kinetin prepares skin for easy moisture absorption.
Green Tea ECO is an antioxidant that protects cells from free radicals, minimizing future environmental damage.
Kinerase Extreme Lift Face Cream is a treatment meant to be used each morning, after cleansing and before moisturizing.  Apply and gently massage into clean skin, then follow up with moisturizer and eye cream for a smooth canvas with few to no visible wrinkles.
Kinerase Extreme Lift Face Cream Pros and Cons
Before making a significant purchase such as this one, it's a good idea to weigh the advantages and disadvantages.
Kinerase Extreme Lift Face Cream High Points
It is made by an established skincare company.
It seeks to mimic the effects of Botox.
The effects are instant.
Samples may be available at local retail outlets.
Kinerase Extreme Lift Face Cream Low Points
Where to Buy
You can buy Kinerase Extreme Lift Face Cream through the Kinerase website at a cost of $150 for a 1 oz bottle.  The website also lists several other retailers, both online and local, where you can make your purchase.  Amazon carries it for $80 so you'll definitely want to shop around for the best price.  There's also a chance that you can find samples at local stores, so that might be another way to go before making the big investment.
Conclusion
If you're expecting a miracle in a bottle, you may be disappointed by Kinerase Extreme Lift Face Cream, and probably most any other product for that matter.   There is no scientific evidence that it works, and the reviews are really quite mixed.  Some women find that it does nothing for them, while others wouldn't leave home without it.  Unfortunately, the price is steep enough to make taking a chance a bit financially risky, especially given that there is no satisfaction guarantee.  We would recommend finding a local retailer willing to let you try it.  That way, you'll be able to determine risk-free whether or not Kinerase Extreme Lift Face Cream seems like an investment worth making.
Have You Used Kinerase Extreme Lift Face Cream?  Leave Your Review Below!
How Women Found This Review:
and Kinerase Extreme Lift Face with Kinetin
User Questions and Answers
User Questions and Answers
No Questions Have Been Answered For This Article.