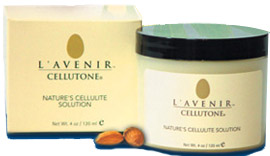 Cellutone Review – Does Cellutone Work?
Cellutone Overview
Cellulite is a difficult problem to minimize, especially for a continued length of time.  There are numerous products on the market today that provide some relief while you are using the cellulite treatment, but when you quit using the product the effects disappear and you're left to cope with the return of cellulite.  One company, Lavenir, has produced a product they say is a long lasting treatment.  It's called Cellutone.  Does it work?
Cellutone – Its Ingredients and How it Works
The Cellutone website explains what they believe causes cellulite.  Lipids are sources of energy stored in fat cells.  When the body needs fuel, lipids are released into the bloodstream by receptors. Certain factors like stress and poor nutrition create toxins that cloak those receptors and diminish their ability to release lipids.  Consequently, the lipids are captured in the fat cells, making the fat cells grow larger.  As the number of enlarged fat cells multiply, the skin takes on the unappealing dimpled look we call cellulite.
The website also says that Cellutone differs from other cellulite creams because it does not use ingredients normally associated with cellulite treatments, ingredients like caffeine or aminophyline, a caffeine-like derivative. Instead, the Cellutone formula combines a number of all natural ingredients that work better and longer.  Those ingredients include hydrolyzed whole egg, sweet almond oil, geranium, lavender and bay oils, and several other botanicals. We're told the formula contains 70 vitamins, minerals, and proteins.
The directions say to use Cellutone twice a day after a hot bath.  You're to cover the problem area with a thin layer of the cream but you are not suppose to massage it into your skin. The formula should then penetrate the skin and stimulate blood flow.  That action will clear the clogged receptors, allowing them to release the lipids and return the enlarged fat cells to their normal size. The website tells us you should see improvement in two weeks and soon reduce the dimpled appearance by up to 75%.
Where to Buy Cellutone
Cellutone may be ordered from the official website.  A 4 ounce jar normally costs $52.99 but is now on sale for $32.99 or you may order two jars for $59.  Although the the website talks about guaranteeing the product's results, no details about a guarantee were found. Check terms of service carefully to be sure you are not being automatically enrolled in an autoship program.
Cellutone Pros
All natural
Says it has long lasting results
Complete ingredients list revealed
Cellutone Cons
No guarantee found
No clinical studies provided
Completely different explanation for cause of cellulite than medical sources
Our Conclusions
Cellutone is an all natural cellulite cream and that's good, however we are disturbed by the fact that the website explains the cause of cellulite differently than do most medical professionals .  They say the treatment creates long lasting results but offer no proof for us to weigh.  This may be an excellent skin cream and it may even work temporarily to reduce cellulite's visibility.  There is no harm in trying Cellutone, but we think you might be disappointed in the results.
Have You Tried Cellutone?  Leave Your Review Below!
User Questions and Answers
User Questions and Answers
No Questions Have Been Answered For This Article.