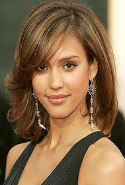 Celebrity Hairstyles With Bangs and Layers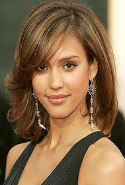 Sexy bangs and layers give your face the attention it deserves. Everyone's getting into this groove singers, actors and even the girl at the checkout counter. People are updating their tresses by getting eye skimming bangs,and chunky layers. If you add face frames like bangs and layers it makes your face a whole lot sexier and can accentuate you features.
Celebrity bangs and layers are the new hairstyle for celeb's and you do not have to be tressed naturally in order to get this style. Anyone can wear layers and it is easy to do.
Not all layers are the same, and they depend on your natural hair texture.
Expert Tips To Maximize Your Hair Style
•Curly hair should incorporate longer layers to give your head spirals and cut down on the frizz.
•If you hair is fine, get your layers cut at ear-length to beef up your superfine hair volume.
•If you have thick hair then you have to thin it out. Your stylist can do this by holding the scissors at a vertical drop when cutting. It will take the bulk away.
How to Get That Layer Look:
In order to get layered locks coat your strands with a smoothing serum and blow dry it through. Then, if you have one of those blowdryers that has an attachment sift it through your hair starting with the back and scrunching your way forward. If you can, wrap two inch sections of your hair around a brush and blow dry it that way. When you have reached the front of your hair it is time to dry it again. Put your blowdryer in front of your face and blow your bangs forward or outward. Put on some more serum and have some pomade handy as well. Flip your hair and blow dry and you should have the complete tousled effect pretty easily.
Bangs Are Not What They Used To Be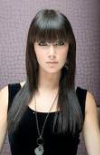 You will be happy to know that bans are not what they once were twenty years ago. Now, there are side swept, wispy, straight and more. Bangs look great on everyone, you just have to cue them to your face shape. If you have a round face then experts say long bangs are the best way to go. If your face is long go with bangs that cover your fore heard. If you have a square face then check out long bangs that have layers near the jaw bone.
To recreate this you will need:
A round hair brush, shining serum, hair dryer, a flatiron (for smooth straight bangs)
Styling Tips
When you blow dry make sure you have super wet hair. Then apply some serum and put a hair clamp on a two inch area of the bangs. Then blow dry in between the sections. Next, get your flat iron if you want to smooth your bangs out and use it there.
User Questions and Answers
User Questions and Answers
No Questions Have Been Answered For This Article.