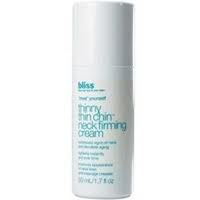 Bliss Thinny Thin Chin Review – Does It Work?
Bliss Thinny Thin Chin Overview
As you are probably aware, there are a whole lot of skin care companies selling a whole bunch of products, all of which will make you beautiful in one way or another.  In order for a new brand to stand out enough to gain a national clientele, it needs to do something to set itself apart.
In some cases it's functionality.  In some cases, it's marketing.  In the case of Bliss, it appears to be marketing.  We know all their products have clever names.  But do they work?
Bliss Thinny Thin Chin is the one we're looking at today.  The claim is that this fairy tale inspired wonder is no joke.  It takes your tired, old, neglected neck, chin, and decollete and turns them all around.
By hydrating, exfoliating, brightening, and tightening, it immediately gets rid of the crepiness and improves your overall look.  They even cite a clinical study where 68% of testers reported less sagging, 76% saw more tone and suppleness in the neck area, and almost 64% noticed a decrease in the appearance of wrinkles.
Bliss Thinny Thin Chin Ingredients and How They Work
Most of what's in Bliss Thinny Thin Chin is moisture and emollients.  There's Capriylic/Capric Triglyceride which is a kind of emollient coconut oil.
Sunflower and Pumpkin seed oils are in there as well.  Algae extract and Alginate add suppleness.  Sodium Hyaluronate attracts and binds moisture to the skin.
This has a dual effect.  It hydrates skin and it also plumps up and fills out wrinkles to temporarily make them appear less visible.  There's also a bit of anti-aging to be found in the Vitamin E and Yeast Extract.
We're frankly a little confused about the claim that Bliss Thinny Thin Chin tightens skin.  There are plenty of Bliss Thinny Thin Chin reviews where customers say it does, but we can't find the ingredient or ingredients that can make it happen.
Bliss Thinny Thin Chin Pros and Cons
Advantages of Bliss Thinny Thin Chin
Most Bliss Thinny Thin Chin reviews are favorable.
It's got some good moisturizers and hydrators.
It's got a catchy name and marketing plan.
It's got a nice light citrus scent.
Disadvantages of Bliss Thinny Thin Chin
The ingredients don't really support the claims of lifting and firming.
It's somewhat expensive.
Where to Buy
You can find Bliss Thinny Thin Chin available on the BlissWorld.com official website and other online sources.  The 1.7 oz bottle costs anywhere from $35 to $48 depending on which retailer you choose.  You can also find the product at Bliss Spas if you have one nearby.
Conclusion
Lots of us neglect our neck.  Bliss calls it "neck neglect" and says you shouldn't be guilty of it anymore.  And they're right.  We should use our wrinkle cream on our neck as well as our face.  Now, if a skincare product actually were able to lift the skin on your neck, chin, and decollete, it would be a real find.  Unfortunately, Bliss Thinny Thin Chin provides little more than moisture.
Have You Used Bliss Thinny Thin Chin?  Leave Your Review Below!
User Questions and Answers
User Questions and Answers
No Questions Have Been Answered For This Article.