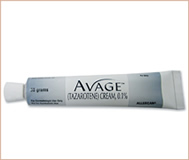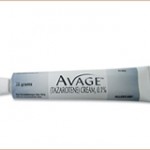 As a prescription only formula, Avage cream (from Allergen the makers of Botox) is a topical cream that relies heavily on retinol to improve the looks of wrinkles and lines. The one active ingredient used in this product is tazarotene which is actually something similar to vitamin A. This means that it is going to have a lot of the same effects (good and bad) as something like a retinol-a product.
The Details of Avage Cream
There are other carriers in this product, and most of them are going to be found in the moisturizing base that was created to offset the irritation, peeling, or dryness that any retinol product can cause. The other ingredients are Carbomer 934P, Carbomer 1342, Edentate Disodium, Medium Chain Triglycerides, Mineral Oil, Purified Water, Sodium Thiosulfate, Sorbitan Monooleate and Sodium Hydroxide.
Where to Buy Avage
Because this is a prescription only formulation, you must first pay a visit to your dermatologist or physician to get the permission to use the treatment. You may then purchase it through their offices or through a traditional pharmacy.
Pro's and Con's
There are a lot of factors to consider with the use of Avage. On the negative side of the list are such things as:
The active ingredient may cause serious irritation, peeling, itching and dryness;
This product is not good for those with sensitive skin; or women who are pregnant or planning on becoming pregnant;
This is a prescription only  product;
There are no guarantees that it will work;
There are other comparable products on the market with a lower dosage or percentage; and
This is a high price option.
On the positive side:
This is strong enough to require a physician, so it must have some effects;
It is scientifically formulated; and
Uses a compound known for supporting the elimination of wrinkles.
Best Price
There is no data available for this simply due to the fact that it is a prescription only option, and prices may vary by patient.
Recommendation
As a standard treatment for wrinkles, we cannot recommend the use of Avage. It requires a physician's consent and medical monitoring, which means that it is not going to be safe for all people interested in eliminating their wrinkles or lines. It is also a formula that relies on an ingredient that many people have bad reactions too. Though these are not life threatening reactions, they can harm the condition of the skin and worsen the appearance of lines and wrinkles by drying out and irritating the skin.
Have You Used Avage?  Leave Your Review Below!
User Questions and Answers
User Questions and Answers
No Questions Have Been Answered For This Article.