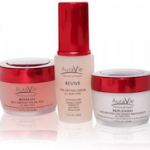 Auravie and Kollagen Intensiv Review – Do You Need Both?
Auravie and Kollagen Intensiv Overview
It's not a good feeling when you look in the mirror and see crow's feet. It's depressing to notice how dull and lifeless your skin looks, and the puffiness around your eyes.  Your skin is dry; the tone uneven, the glow gone.  Isn't there anything you can do to keep your skin from aging so quickly?
If you believe all the ads you read, there are hundreds of choices that will solve the problem.  And if selling you one expensive product isn't enough, you can buy whole skin conditioning "systems".  Better yet, the newest trend is pushing you to combine two of these systems at once.  The results will be miraculous, or so they say.  The latest push is in favor of using both Auravie and Kollagen Intensiv.  By using both Auravie and Kollagen Intensiv, your skin will look like it did when you were just a dewy young girl.
Let's explore that claim.  Will using both Auravie and Kollagen Intensiv produce better results than using one product alone?
What's Auravie?
Auravie is a three-step system for reducing wrinkles.  It involves using Auravie anti-oxidant face peel one to two times a week along with step 2, the age defying serum.  The face peel deep cleans the skin and stimulates cell renewal.  The age defying serum lifts and firms the skin on the neck, face, and around the eye area.  Step 3 is the addition of a day/night moisturizer meant to increase the retention of moisture in the skin, boost natural cell regeneration, and improve the skin's texture.  If you buy all three products at once from the official website, you will pay $219 and receive free shipping.  You save $110 off the regular price of the products bought separately.
What's Kollagen Intensiv?
Kollagen Intensiv is an anti-aging cream that claims to do five things: increase natural collagen production, boost natural moisturizing factors, reduce photoaging caused by damage from the sun, protect against wrinkles, and decrease shadows, crows feet, and puffiness around the eyes.  One of the main active ingredients is SYN-COLL, a patented peptide clinically proven to increase natural collagen production.
This product promises you will see a significant improvement in your skin in no longer than 80 days. This cream is $59.95 for a one-month supply at the official website with discounts available for quantity purchases.
Our Thoughts on Combining Auravie and Kollagen Intensiv
Auravie and Kollagen Intensiv each have a good reputation individually.  They both seem to be effective and contain clinically proven ingredients.  Auravie and Kollagen Intensiv both come with money back guarantees. By using Auravie and Kollagen Intensiv together, you should certainly see results. However, you would see results from either product and there is no real proof that they work miracles when used simultaneously.  Few women can afford to spend nearly $300 a month on skin care alone.  We feel most women would be satisfied using either product by itself instead of spending even more money for extra benefits that remain unproven.  Pick the product that sounds most likely to be a viable solution for your skin problems and make a choice between Auravie and Kollagen Intensiv.
Have You Tried Auravie and Kollagen Intensiv?  Leave Your Review Below!
User Questions and Answers
User Questions and Answers
No Questions Have Been Answered For This Article.