Image Skincare Body Spa CellULift Creme Review – Does it Work?
Hello all! Let's talk about Image Skincare Body Spa Cellulift Firming Body Creme and how it combats cellulite.
Cellulift Creme is an all over body cream formulated to firm, tighten, and fight skin laxity on a cellular level and reduce the appearance of cellulite.
I recently started using Cellulift Creme because I wanted to firm and tighten up my legs and booty, and if you know me at all, you know that Image Skincare is my favorite line on the market, hands down!
All of the Image Skincare products I've used have been well worth the price tag, which really isn't that outrageous.
Image Skincare has won many awards for their cutting edge technology and ingredients, and Cellulift Creme is a perfect example of why this line never ceases to impress!
Image CellULift Creme – How It Works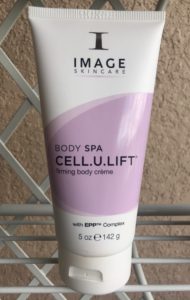 Now lets talk about what this product actually does and why you should try it. This product is a skin tightener and cellulite reduction cream. Sign me up! Right?!
The Image Skincare Body Spa Cellulift Creme was designed by plastic surgeons to strengthen collagen fibers, underlying tissue, and lipid cells.
It has a formulation exclusive to Image Skincare called Enzyme Polypeptide TM Complex that goes beneath the surface of the skin to really target those problem areas.
There have been studies by plastic surgeons on the results of this product and they have all been positive!
How and When to use Image CellUlift Creme
I normally like to use Cellulift Creme after a high interval training workout when my muscles are still working and my blood is flowing. I go to Orange Theory Fitness which is a fantastic high interval training group class. I also love yoga!
In my experience, having your blood pumping beforehand seriously helps the body creme to penetrate even deeper below the cellular level. You can apply it anywhere that you feel needs a little lift!
With cellulite creams, I focus on my thighs, glute muscles, and the areas around it. When I apply it, I make sure to really massage the product into area where I want results. Try and work it into your skin until you can't feel a slip anymore. Cellulift Creme is NOT to be used on the face!
However, you can use it on the neck, tricep area, lower abdomen, thighs and glutes. This will enhance treatments like body firming and body wrapping as well. Image Skincare Body Spa Cellulite Creme has also been recommended for post operative swelling.
I can honestly say that when I use it, I can immediately feel a lift and I love it! It's recommended to be applied two times daily on cleansed and exfoliated skin.
I highly recommend dry brushing the skin first. If you don't workout, get your blood flowing by getting in the shower and dry brushing the skin afterwards. It's great to do this in the morning!
Image CellULift Creme- How It Smells & Feels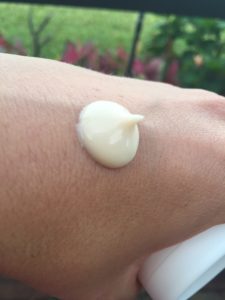 Cellulift Creme is a hydrating (non-greasy) formula which does a great job of hydrating the skin and creating a smoother surface. It has a nice texture and feel and is easily applied and rubbed in.
Some people say they can't get over the smell, I personally enjoy the smell. To me it smells like a York Peppermint Patty! I hope that doesn't make you want to run to the store to load up on chocolate!
In most cases, peppermint is a healing ingredient that actually makes a positive difference in the results of a product by increasing blood flow. It's definitely not just for fragrance purposes, however peppermint also makes a wonderful essential oil if you enjoy the smell.
Tips on Getting Better Results Using CellULift
I have been working out 4x a week and eating cleaner which has naturally helped with my cellulite issues as well. It only takes a few weeks to start new, healthy habits, including your morning and evening beauty rituals!
In relation to kick starting your weight loss from the inside, we have many reviews of other products like the best fat burners that can really add to your ultimate goal! Checkout KETO OS!


I've used this product to lose weight (10 lbs in 3 weeks), and I've found that using a fat burning supplement together with exercise and Cellulift Creme, have given me some pretty awesome results to lose some of those dreaded cellulite dimples!
Image CellULift Creme Ingredients
Image Skincare Body Spa Cellulift Firming Body Creme, and all Image Skincare products, are all paraben free!
Cellulift Creme contains cutting edge ingredients and packs a powerful punch to target the reduction of cellulite and to hydrate and smooth the skin.
I know the list is long, but take a look at what each one does, specifically. You don't find these ingredients in everyday brands, that's for sure!
EPPTM Enzyme Polypeptide Complex– exclusive to Image Skincare; strengthens collagen fibers and reduces fat cells
UNISLIM SLIMBUSTER H– Decreases cellulite appearance
Pychopetalum olacoides extract– Combination of two flowering plants exclusively grown in the Amazon rainforest; stimulating effect
Trichillia catigua extract– anti aging ingredient that fights free radicals; known to have an anti-depressant-like effect
Pffafia Extract– reduces inflammation; relieves pain; supports hormones; lowers cholestoral; oxyginates cells; inhibits tumor growth; calms nerves; inhibits cancer; enhances immunity
SLIMMING FACTOR KARKADE– based on the extract of red hibiscus flowers; 50% inhibition of in vitro activity of lipo protein which is an enzyme responsible for the storage of  cellular fat
Glycopeptides 5 – help with inflammation and the immune system
Sambucas Nigra Flower Jojoba – soothing, healing effects; restores skin elasticity and smoothness
Almond – repairs damaged cells; stimulates the growth of healthy skin; plumps and firms the skin
Sesame Oil – high in Vitamin A and E; antioxidants that help fight free radicals that age the skin; reduces lines and wrinkles
Theophyllisilane – anti-inflammatory
Imperta Cylindra Root – high concentration of potassium; moisturizing effects
Shea Butter – moisturizing; absorbs easily into the skin; water binding properties
Organic Mandarin Orange Oil – improves circulation of blood and lymph below the skin; promotes growth of new cells and tissues; provides relief from inflammation and stress
Hyaluronic Acid– protects against solar radiation and free radical damage, moisturizer
As you can see from this extensive list, there is no shortage of wonderful ingredients in Cellulift Creme to help tighten, firm and tone and ultimately reduce the look of cellulite and nourish the skin.
Image CellULift Creme Pros and Cons
Before you commit to a product, you should always try to weigh the pro's and con's. For me, this list was easy!
Pros:
I have been very happy with this product overall. The ingredients are super high quality and they do the work the way they're said to.
Use this product as directed, along with a healthier lifestyle, and you will see the most positive results.
Again, adding a little more exercise and healthy eating to your daily routing makes so much of a difference! Not just the appearance of your body, but the way you feel as well!
The packaging is very cute on all Image Skincare products and its goes well with the other two products that I listed above in the Image Skincare Body Spa line.
Cellulift is approved by plastic surgeons which obviously says a lot. It does last a long time and it does not expire quickly.
Cons:
Some people don't love the smell of it or they may not be able to afford the cost. For such an effective skincare line with so many awards and positive reviews, I would have to disagree! Buy one product that works, or 5 products that do not work. Quality always wins.
Image Skincare is not sold in retail stores or at the mall.
Where to Buy Image CellULift Creme and the Price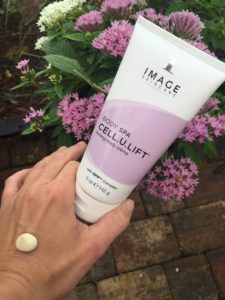 Image Skincare is a line of skincare that used to be only sold to licensed estheticians and physicians, but now it's available to everyone.
The retail price of Cellulift Creme is roughly $50 for a 5 oz tube so yes it's pricey, but trust me it's worth the price!
You can purchase directly from the Image Skincare website.
What Other Image Products Pair Well With CellULift?
Many people like to first use the Image Skincare Body Spa Exfoliating Scrub, then the Image Skincare Body Spa Cellulite firming body creme, and finish with the Image Skincare Body Spa Rejuvanating Body Lotion. Quite a restorative cocktail of skincare!
I like to let the Cellulift Creme settle in first, and then follow up with the Body Spa Rejuvenating Body Lotion.  That's what I've read about in the past from other Image Skincare users and I recommend the same to others.
Recommendation & Conclusion
As you can see, I highly recommend Image Skincare CelluLift Creme because it's given me results! Other cellulite creams haven't done their job and they're now in the trash.
As I mentioned earlier, it's a great idea to add in a product like KETO OS into your routine at the same time. It's a fat burner and energy booster! And reducing your overall body fat is the best way to actually reduce cellulite.
It helps to melt away the fat which also helps reduce cellulite quickly! You can check out the product using the link above, or if you want to read my personal testimonial, you can read that here.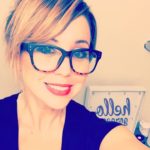 One product you drink and the other is topical (Cellulift Creme), so you are working on the outside and inside of your body! I also encourage you to get involved in a physical group activity to help you stay motivated!
I love the girls at the front desk of Orange Theory Fitness. If I try to call and bail out on class, they don't let me get away with it, which I'm grateful for.
I love things that make me smile and feel more confident, and anything to get me closer to those short shorts hidden in my closet are a huge plus! Here in South Florida, it's summertime basically all year round!
Be sure to checkout our other Image Skincare reviews, and if you have any questions, please let us know.
Have you tried Image CellULift? Leave your review, questions or comments below!
Click here to submit your review.
---
Cellulift
Image Skincare Body Spa CellULift Creme Review – Does it Work?
Katie, love your review and thanks for the tips! I've been using Cellulift for a few weeks now and I think it makes a difference! The back of my thighs look smoother. I will look into your suggestion on the the Keto OS. Seems a fat burner would be a good compliment to this product.

---
User Questions and Answers
User Questions and Answers
---
Q: So yes I did read that it says you may use on your neck but not your face, does anyone happen to know why that is or what the negative effect is if you do? -Liz
A:
It's too thick a consistency for your face, I wouldn't advise it. Image has many wonderful products for your face.
Was this question helpful to you?
1 out of 1 people found this question helpful.
---