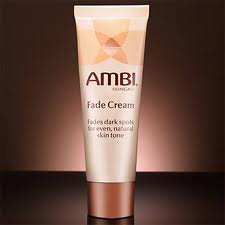 Ambi Skincare Fade Cream Review – Tried and True?
The Ambi name has been synonymous with skin lightening for over 40 years, and it still is.  In 2006, the company was acquired by Johnson & Johnson, and went through a process of updating the formulas and packaging.  Today's Ambi Skincare offers several lines of skin care products targeted toward today's multi-cultural woman.
Ambi Skincare Fade Cream is an award winning product for lightening and brightening skin.  In 2011 alone, it won the Essence Readers' Choice Award for Best in Hyperpigmentation Treatment, the Allure Magazine Best of Beauty award, and the Elle Genius Award for Best in Spot Couture.   It comes in both normal skin and oily skin versions, and both are designed to gradually fade dark spots, returning your skin to its natural, even-toned color.  It's meant to work with all skin tones, and reduces freckles, age spots, acne scars, dark patches due to hormone changes, and variations in skin color for any reason.
Ambi Skincare Fade Cream Ingredients and How They Work
The website doesn't list all the ingredients, but they do reveal the main active ingredients involved in the lightening, brightening, and evening of skin tone.
Hydroquinone is the most dermatologist recommended skin lightening agent there is.  It has been proven effective in clinical tests.  Unfortunately, there may be unwanted side effects.  Hydroquinone can cause irritation in some, and it's been linked to cancer in rats.  Despite this, dermatologists continue to recommend it in a 2% concentration for OTC products and to prescribe it in up to 4% concentrations to their patients.
Alpha Hydroxy Acid provides exfoliation so the softer, smoother, more even skin tone under the surface shows through.
Vitamin E is an antioxidant that softens, smooths, and protects skin from further pigment inducing damage.
Use twice per day, morning and night, and always follow up with a 30 SPF sunscreen to help allow spots to fade and keep them from returning.
Ambi Skincare Fade Cream Pros and Cons
Everything has its positive and negative aspects.  Sometimes, contrasting them against each other will reveal whether or not you should make the purchase you're considering.
Advantages of Ambi Skincare Fade Cream
It is a multiple award winning product.
It has been clinically tested with outstanding results.
Ambi Skincare Fade Cream reviews are far more positive than negative.
It is very inexpensive.
Disadvantages of Ambi Skincare Fade Cream
It requires daily commitment.
It may take 12 weeks to achieve desired results.
The hydroquinone may cause irritation.
Where to Buy
Another advantage to Ambi Skincare Fade Cream is its wide availability.  You can find it in retail stores, beauty supply stores, and online.  Prices will vary depending on where you go, but they generally hover in a range of $4 to $6 for a 2 oz tube.
Conclusion
Given the awards, the reviews, and the price, we can't help but recommend Ambi Fade Cream.  Make sure you start your fading regimen with the realistic expectation that it will take some time.  Fading does not happen overnight.  You'll also want to test it out on a small area not on your face to make sure you won't have a reaction to the hydroquinone.  Once you do, you'll be ready to start your journey to lighter, more even-toned skin with Ambi Skincare Fade Cream.
Read about our Top Skin Lighteners
Have You Used Ambi Skincare Fade Cream?  Leave Your Review Below!
User Questions and Answers
User Questions and Answers
---
Q: I've been using this product since I was 13yrs old and now 59, as a teen I had acne an this product has been the main part of my beauty regimen for years. No question just my review. -Freda
A:
Hi Freda, wow that's awesome! Thanks for your review of this product, I see it's still for sale so it must be keeping some happy customers. xo Rachel
Was this question helpful to you?

---