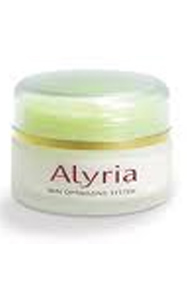 Alyria Skin Care Reviews, Ingredients, and More
Few people are delighted by the appearance of wrinkles because it is a distinct sign that the chemistry of their skin is changing. They can arrest some of these changes if they take a complete approach to the "problem", and the Alyria wrinkle creams claim to offer such a solution. Using their "Skin Optimizing System" a buyer can treat the wrinkles directly and also enhance the general conditions of the skin on the face, neck, and eye area.
Ingredients in Alyria
When we looked at the list of ingredients, however, we didn't find a lot of evidence that potent treatments were possible. For instance, in the somewhat massive list of ingredients only two are antioxidants (Ascorbyl Palmitate and Tocopheryl Acetate) and the Matrixyl mentioned on the website does not appear at all. The two beneficial ingredients appear at the end of the list, meaning that they may have been added in negligible amounts as well.
Where to Buy Alyria
Found online (but not through the manufacturer's site), Alyria has around 15 different options, though we have focused only on their targeted wrinkle cream here. Their product line is also widely available through an array of online distributors as well, including sites such as Amazon and online drugstores.
Pro's and Con's
There is an equal amount of good and bad in terms of our review of Alyria. On the good side:
There is a lot of positive consumer feedback available about the entire product line;
There are antioxidants in the formulation, which is a sign that it can deliver some of the results described; and
The line has received favorable reviews from the press.
On the negative side:
This is an expensive line of products to use;
The wrinkle cream does not have the Matrixyl mentioned throughout the website;
There are parabens in some of the products;
There is no guarantee; and
You cannot purchase the products directly from the maker.
Best Price
Even with options for online stores, the best prices for the intense wrinkle correction cream were very high. For the 1.75-ounce bottle, the price ranged from $128 to $167. There are no product guarantees.
Recommendation
With its high price and lack of suitable ingredients, we don't recommend the Alyria wrinkle treatment. It is just too costly and too risky without a guarantee to invest in the product. Additionally, the paraben contents can mean that skin irritation could occur.
Read about our Top Wrinkle Creams
Have you used Alyria? Leave your comments or questions below!
User Questions and Answers
User Questions and Answers
No Questions Have Been Answered For This Article.