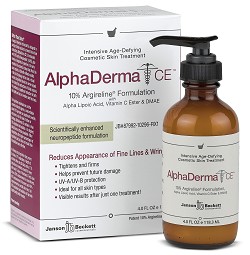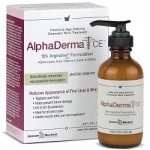 Designed to eliminate wrinkles and to also repair damages from aging, the Alpha Derma CE product also says it can make these changes in as little as a single treatment. We were excited to see if the product did indeed include anything revolutionary, but were disappointed by the ingredients. Though Acetyl Hexapeptide 3(ARGIRELINE) ranked highly in the list, we didn't run into other beneficial compounds until a bit farther down.
Other Ingredients in Alpha Derma CE
That is when we found the Soluble Collagen, Hydrolyzed Elastin, Alpha Lipoic Acid, Ascorbyl Palmitate (Vitamin C Ester), DMAE Bitartrate, and Aloe Vera Extract that would definitely increase the condition of the skin. The one thing we knew we had determined was that the product could not work with just the single treatment. Though Argireline is known for fighting wrinkles, it is clinically proven to work in a thirty-day period or longer. That means that the instant corrections claimed by Janson Beckett (the manufacturer) were inaccurate.
Where to Buy
We found Alpha Derma CE at many online vendors, including traditional venues and high end cosmetics sites. We did not find any guarantees.
Pro's and Con's
It is fair to say that there is an even number of pros and cons for this product. On the positive side:
The product contains compounds that are known to greatly reduce the appearance of lines and wrinkles over time;
The formulation and ingredients are clearly identified on the label; and
The manufacturer has a good reputation.
On the negative side there is:
The fact that the manufacturer claims that this product will work with a single application;
That there is no clinical data offered as evidence; and
That the product can be expensive.
Best Price
The pricing that we found online ranged from as little as $23 for a one ounce bottle and up to $80 for the four ounce container. As mentioned, there is no guarantee.
Recommendation
We like what we see in the list of ingredients for the Alphaderma CE product. What we are not fond of is the manufacturer's claims of instant effects. If you are looking for a product that is going to improve the look of the skin, and reduce wrinkles, over a lengthy period of use, this is a product to consider. We estimate that a 30-day period will begin showing results, and that this product is worth a try.
Have You Used Alphaderma CE?  Leave Your Review Below!
User Questions and Answers
User Questions and Answers
No Questions Have Been Answered For This Article.