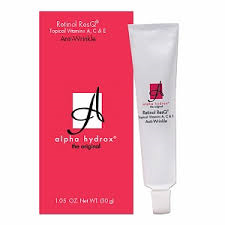 Alpha Hydrox Retinol ResQ Review – Is It Effective?
Alpha Hydrox Retinol ResQ Overview
The benefits of Retinol for your skin have long been established.  It's not a new or fancy ingredient, but it is what works.  One of the most important things I've learned by examining literally hundreds and anti-aging skincare products is that you have to look beyond the packaging and the hype.  Once you don that, you leave yourself open to finding some real quality products.
Alpha Hydrox Retinol ResQ is an impressive product from an impressive company.  It's simple and effective.  If you look around the internet, it's hard to find a Alpha Hydrox Retinol ResQ review that isn't positively raving.  Obviously there are a few, but it really is so few that I chalk it up to the nothing-works-for-everybody factor.  So dive in with me and I'll tell you what we know about Alpha Hydrox Retinol ResQ.
Alpha Hydrox Retinol ResQ Ingredients and How They Work
Pure-Active Retinol (Vitamin A) is the signature ingredient in Alpha Hydrox Retinol ResQ.  It basically increases skin cell turnover so new, healthy skin is always regenerating.  It also encourages skin to product more collagen which is what makes skin firm and elastic. Vitamin E serves dual purposes here. It nourishes and provides antioxidant protection against free radicals. Vitamin C is another great ingredient that serves more than one purpose.  It's a great antioxidant and it works to lighten and even skin tone. Bisabolol is a soothing, calming, anti-irritant and anti-inflammatory which is important when you're using retinol which can be irritating.
You are instructed to apply Alpha Hydrox Retinol ResQ to face and neck at night after cleansing.  If nightly use is too much at first, you should cut back until your skin can adjust.
Alpha Hydrox Retinol ResQ Pros and Cons
Advantages of Alpha Hydrox Retinol ResQ
The

Alpha Hydrox Retinol ResQ

reviews from customers are overwhelmingly positive.
Women use it for both anti-aging and anti-acne purposes.
They all say their skin is smooth, even, and clear after regular use.
It is affordable.
The opaque tube packaging maintains the integrity of the ingredients.
Disadvantages of Alpha Hydrox Retinol ResQ
It could use more antioxidants in the formula.
Where to Buy
You can find Alpha Hydrox Retinol ResQ online and in local stores like ULTA and Walgreens.  The 1 ounce tube retails for $14.99, though we've seen it on sale for a bit less.
Conclusion
For anyone who's wanting to add the benefits of retinol to her skin care routine, Alpha Hydrox Retinol ResQ is an affordable and effective way to do it.
Have You Used Alpha Hydrox Retinol ResQ?  Leave Your Review Below!
User Questions and Answers
User Questions and Answers
No Questions Have Been Answered For This Article.