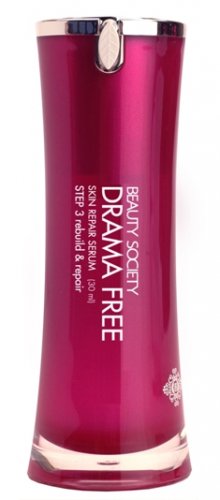 Beauty Society Drama Free Serum Review
Beauty Society Drama Free Serum Overview
Beauty Society is kind of like the 21st century version of Avon.  The products are sold by representatives called "Divas" who host parties, sometimes of the virtual variety to sell their products.  They sell both skincare and makeup, and many of their products have cute, clever names that make you want to buy them.  Well, let's just step back a minute.  You and I both know that you have to look at products one at a time, and rate them each on their merits.  So that's what we're doing today with Beauty Society Drama Free Serum.
Beauty Society Drama Free Serum is made, among other things, to calm and soothe sensitive and rosacea prone skin.  It claims also to be ideal for aging skin that suffers from sun-damage, scarring from acne or other past problems, fine lines, wrinkles, and laser or chemical treatments gone awry.  Over time, it corrects these problems, brings back the glow of youth, and incredibly, teaches the skin to repair itself in the future.
Unfortunately, the website doesn't explain how Beauty Society Drama Free Serum does all that, and I've never met a Beauty Society Diva. So we've examined the ingredients and are prepared to get you up to speed on whether and how this stuff is able to live up to its claims.
Beauty Society Drama Free Serum Ingredients and How They Work
The highlighted ingredients in the formula are Betaglucans, Superoxide Dismutase, and Sodium Hyaluronate.
Betaglucans have been shown to smooth the appearance of fine lines and wrinkles, but only if the molecule is small enough to penetrate the skin.  This has been an issue with betaglucans for years, and we don't know whether or not it is solved in the case of Free SeBeauty Society Drama rum.
Superoxide Dismutase is a powrful skin cell communicator.  It has been shown to encourage skin cell repair.  The only problem is that most of the testing has been done on ingested or injected superoxide dismutase, and it needs copper and vitamin c in order to be effective.  So the effectiveness of topical application is iffy at best.
Sodium Hyaluronate is a slam dunk.  Most anti-aging serums today contain this water binding agent. It provides much needed hydration while filling in and plumping out fine lines and wrinkles.
Beauty Society Drama Free Serum is meant to be applied to clean skin each morning and night after cleansing.  You can apply additional moisturizer on top if your skin needs more hydration than that which is provided by Beauty Society Drama Free Serum.
Beauty Society Drama Free Serum Pros and Cons
Advantages of Beauty Society Drama Free Serum
It contains potentially cutting edge ingredients.
There are some positive

Beauty Society Drama Free Serum

reviews from customers.
You can buy refill packs with a less expensive than the original packaging and more environmentally friendly.
Disadvantages of Beauty Society Drama Free Serum
There are no antioxidants or peptides in the formula.
It's expensive.
There are plenty of negative Beauty Society Drama Free Serum reviews from disappointed customers.
Beauty Society information online is more about becoming a Diva than about how the products can help you with your skin care needs.
Where to Buy
You can buy Beauty Society Drama Free Serum online or through a network of Divas, your local Beauty Society sales representatives.  The 1 ounce jar costs $59.50.  Refills are slightly less.
Conclusion
When a product packs its formula with breakthrough, cutting edge ingredients, we think there ought to be some clinical evidence to back up its claims.  In the absence of that, the customer feedback needs to be overwhelmingly positive.  Beauty Society Drama Free Serum doesn't offer evidence or clear customer satisfaction so we'd have to advise you to save your money on this one, despite the clever name.
Have You Used Beauty Society Drama Free Serum?  Leave Your Review Below!
User Questions and Answers
User Questions and Answers
---
Q: How do you apply Drama Free. I have 3 brown spots on my face and upper lip wrinkles. Do I dab it on or run it in or what? ?? -Carolyn Hunt
A:
dab it on and rub in gently...
Was this question helpful to you?
1 out of 1 people found this question helpful.
---
Q: Does this work good for scars? I suffered from self harm and have bad deep scars. I want them to be gone or faded. -
A:
Hey there, thanks for your message. The one I recommend is Dermefface FX7 Scar Reduction Treatment and you can read my personal review there. It'll work even better if it's a "newer" scar rather than a super old one. But this one has a really nice, silky texture and has a nice feel to it, it should help. Best of luck to you! xoxo Rachel
Was this question helpful to you?

---