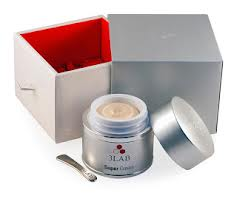 3Lab Super Cream Review – Worth Its Weight In Gold?
3Lab Super Cream Overview
3Lab Super Cream is a new formulation by 3Lab Skincare Co-Founder, Erica Chung together with her chemists.  Erica is famous for being her toughest customer in her quest for the perfect skincare product.  This time, she looked to cutting edge cancer treatment for her answer.
3Lab Super Cream claims to be like GPS for your skin.  It uses what they call "smart" technology to deliver the active ingredients precisely where they need to be to repair damaged cells.  As a result, you're left with total rejuvenation, including minimization of fine lines and wrinkles, lightening of dark spots, lifting of sagging skin, and a brightened, more even and luminous skin tone.
3Lab Super Cream Ingredients and How They Work
When it comes to 3Lab Super Cream, the delivery mechanism is as important as what it delivers.  After all, if the active components don't reach the damaged cells, they can't correct the problem.
X-50 is what they call an Anti-Aging Powder.  It works like GPS, directing the rest of the active ingredients to the damaged cells that need them.
Nano-Claire GY is like hormone replacement therapy for the skin.  It is literally HGH encapsulated for use on the skin.  It has shown promising results for in the fields of anti-aging and anti-acne skincare.
Phytocell Tec Malus Domestica are stem cells cultivated from a rare Swiss apple.  These stem cells have been proven to delay the aging process.
Alpha Melight helps to whiten and brighten the skin.
Disapore 20 reduces the size of pores in the skin.
Dragon Blood Sap comes from the Croton Lechleri (or Dragons Blood Tree) and is known to be an anti-inflammatory that also has healing properties for the skin.
You'll also find a whole list of peptides for collagen production and a number of hydrating ingredients like Sodium Hyaluronate, and antioxidants like Vitamin E.
The directions are to apply 3Lab Super Cream to your face and neck in the morning and/or at night.
3Lab Super Cream Pros and Cons
Advantages of 3Lab Super Cream
It uses cutting edge technology.
The few 3Lab Super Cream reviews we could find are all positive.
Disadvantages of 3Lab Super Cream
It's extremely expensive.
It's only available at Barneys New York and  Barneys online.
There isn't much online word of mouth out on 3Lab Super Cream yet.
Jar packaging will cause the ingredients to break down.
Where to Buy
At this time, 3Lab Super Cream is only available through Barneys New York, online and in stores.  The1.7 oz jar costs a whopping $875.
Conclusion
$875 is an awful lot of money to spend on a jar of face cream.  While the price puts it out of reach for most of us, if it really performs miracles, maybe it would be worth it to some.  At this point, we just don't think there's enough information out there about whether or not it makes a real difference.  If there were more customer feedback or some clinical studies, we'd feel more comfortable recommending 3Lab Super Cream.  As it is, we think it might be best to wait and let somebody else be their guinea pig.
Have You Used 3Lab Super Cream?  Leave Your Review Below!
How Women Found This Review:
and https://www womensblogtalk com/3lab-super-cream-review
User Questions and Answers
User Questions and Answers
---
Q: Is a serum essential when using 3 lab super cream.If so is any 3 lab serum suitable? -Sheila
A:
Sheila, I would hope a serum isn't necessary if you're paying $875 for a small jar of cream! LOL Honestly this stuff is overpriced and that's an outlandish amount of money to pay for any cream. There isn't any cutting edge technology in this worth the price they're charging to be honest, it's just a huge markup for a name and the fancy stores they sell it in. You should give my top cream a try, Lifecell is amazing and gives instant results since it also works as a wrinkle filler. It's free for 30 days, but then they bill you $189 for the full tube, and send every 60 days for $149. Too expensive for some, but it's my absolute favorite. My sister and I both love it, she's a makeup artist and uses it on brides for their big day since it instantly smooths your whole face and disguises wrinkles. It has long term anti-aging benefits as well and you can use on eyes and lips as well, it's like having 7 products in 1. Good luck, and thanks for your comment! Rachel
Was this question helpful to you?

---