Has all the life left your love life?  If you feel like you've lost interest in passion and are unable to enjoy sex, you're one of 50 million women in the United States suffering from Female Sexual Dysfunction (FSD).  It's something that happens naturally to many women at some point in their life.  It can be caused by stress, medications, hormone imbalance, and other catalysts.  Fortunately, some natural herbal remedies available may offer help.  Thanda Passion Booster is one possibility you may want to learn more about.
How Thanda Passion Booster Works and Its Ingredients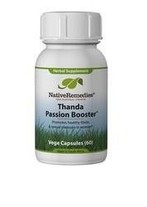 Thanda Passion Booster is an herbal supplement from Native Remedies, a Florida company that distributes numerous all-natural health products.  The company claims that Thanda Passion Booster will revive a woman's libido and put the pleasure back in lovemaking.  The combination of ingredients is also aimed at promoting  overall reproductive health and restoring  energy levels.
Several of the herbs used in this formula are well known for their aphrodisiac qualities, especially gingko biloba, Tribulus terrestris, Dulacia, and sarsaparilla. Other ingredients meant to balance hormones, increase strength and energy, and reduce stress include saw palmetto, Gentiana Iutea, Eleuthero, Ashwaghanda, and DMG.  This holistic combination is designed to strengthen libido, increase sensitivity, and improve orgasmic functioning.
The directions say to take one to two capsules per day after meals.  It is also recommended that you take another capsule 15-30 minutes before enjoying sexual activity.  Some women feel a difference in consistently improved libido in just a few days, while others may take 3-6 weeks on the formula to enjoy the full affects.
The Pros and Cons of Thanda Passion Booster
If you are considering trying Thanda Passion Booster, you need all the facts, both positive and negative.  Here's the good news about this product:
All-natural ingredients
Complete ingredients list at website
No side effects
Good supplement for overall health
Testimonials available
Vegan approved capsules
The facts that aren't quite as pleasing include:
No clinical evidence provided
No money back guarantee
Should not be taken by women who are pregnant or nursing
Where to Buy Thanda Passion Booster
This  dietary supplement may be purchased at a variety of online stores, with prices ranging from about $31 up to $44.  If you visit the official website, however, there is usually some special pricing available.  For instance, at the time of this review you could purchase two bottles for $69.90 and get a third bottle free.  Native Remedies also offers free shipping when you order $79 worth or more of their products.
Our Conclusions
With this combination of ingredients, Thanda Passion Booster appears to be more than a female sexual enhancement tonic;  it could be used simply to support overall health and well-being.  These herbs have been used and trusted by cultures for centuries and many of them are known libido boosters.  We think that Thanda Passion Booster is definitely worth trying if you are either anxious to resuscitate your libido or if you simply want a tonic that will promote both physical and emotional health.
Check out our Top Female Enhancement Products
Have You Tried Thanda Passion Booster?  Leave Your Review Below!
Our #1 Choice for Female Enhancement – HerSolution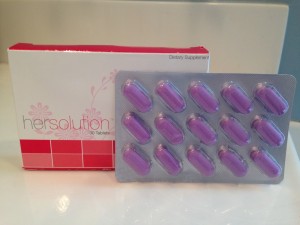 Sometimes we need a little boost in the bedroom. HerSolution is a two part system and is our most effective combo to help with arousal and sexual pleasure. The first part is a daily supplement taken once per day with all the right ingredients (including L-Arginine) to put you in the mood and increase libido.
The second part is the Libodo Enhancing Gel which is used prior to sex to increase blood flow and to enhance the experience. HerSolution contains all natural herbal ingredients that are Dr. approved with no reported side effects. HerSolution is our #1 choice due to its high level of recommendations from professionals and consumers.
Read my official review of HerSolution here
User Questions and Answers
User Questions and Answers
No Questions Have Been Answered For This Article.