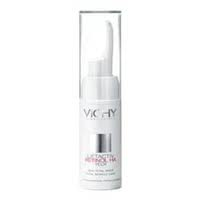 Vichy Eye Cream Review – Is it a Winner?
Vichy Eye Cream Overview
When the skin around your eyes starts to appear dull, and lines and wrinkles begin to appear, it may be time to invest in a product made specifically to improve this fragile skin. Vichy LiftActiv Retinol HA Eyes Total Anti-Wrinkle Renovating Care is made to do just that.  Vichy is a well-respected skin care company that offers a wide variety of skincare products.   Vichy Eye Cream is part of the LiftActiv Retinol HA line that promises to fight all 3 types of wrinkles: permanent, reversible, and programmed, with visible results in just 4 days.
Vichy Eye Cream Ingredients and How They Work
The two main active ingredients are Hyaluronic Acid and Retinol Palmitate with Adenosine Complex.  Hyaluronic Acid is a powerful hydrator which acts to fill in wrinkles by attracting moisture and plumping the skin.  Retinol Palmitate with Adenosine Complex stimulates the regeneration of new skin cells.  Shea butter, sunflower seed oil, caffeine, and glycerin round out the formula.
One refreshing fact about Vichy Eye Cream is that it has been clinically tested and proven effective.  Vichy conducted a test using 42 women with all skin types between the ages of 45 and 65.  These women all had wrinkles, crow's-feet, and uneven skin tone. After 2 months, they had 35% fewer wrinkles and a 26% reduction in crow's-feet.
The application is somewhat unique.  You apply a pump's worth to each eye (upper and lower lid), and use the applicator tip to massage it into your skin.  When used correctly, Vichy Eye Cream promises to instantly smooth out and fill in wrinkles while brightening the skin around your eyes.
Vichy Eye Cream Pros and Cons
With so many choices on the market, we find it helps to list and compare the pros and cons.
Advantages
Vichy Eye Cream has been clinically tested and is suitable for all skin types.
It has also been tested and found to be non-irritating to sensitive skin and eyes.
Vichy products all come with a 30-day money back guarantee.
It's available online and in stores.
Vichy Eye Cream Reviews are overwhelmingly positive.
Disadvantages
Some reviewers claim that it Vichy Eye Cream is either mildly effective or not at all.
Where to Buy
Vichy Eye Cream is available online, either at their website or others like Amazon and SkinStore.com at prices ranging from $36 to $45 for a 1/2 oz bottle.  You can also pick it up at local retailers like CVS and Walgreens.
Conclusion
We feel very comfortable recommending Vichy Eye Cream to anyone who wants to reduce the lines and wrinkles that crop up around your eyes as you age.  It is made by a company respected the world over for their many skin care products.  In fact, the line often makes the "top products" lists in women's magazines like In Style and Good Housekeeping.  Add the overwhelmingly positive reviews, the reasonable price, and the money-back guarantee, and we think we've found a winner.  Give it a try and let us know what you think.
Read about our Top Three Eye Treatments
Have You Used Vichy Eye Cream?  Leave Your Review Below!
User Questions and Answers
User Questions and Answers
No Questions Have Been Answered For This Article.