Nu Skin Intensive Eye Complex
Reviewed by:
Teresa Walker
Nu Skin Intensive Eye Complex Overview
Nu Skin is a direct marketing company that's been making and distributing skincare products since its inception in 1984.  Research and development takes place at their Nu Skin Enterprises Center for Anti-Aging Research where they come up with new and improved formulas meant to hold back the hands of time and help us all grow old gracefully.
The purpose of Nu Skin Intensive Eye Complex is to keep the delicate skin around the eyes moist and hydrated.  The skin around the eyes is notoriously fragile and needs special attention if it is to remain smooth, supple, and wrinkle-free.  With science and dermatology to back it up, Nu Skin Intensive Eye Complex claims to provide just what this skin needs.  It absorbs quickly to protect against moisture loss, promote cellular respiration, and soothe skin.
Nu Skin Intensive Eye Complex Ingredients and How They Work
The Nu Skin website does provide an ingredients list.  Unfortunately, they don't provide information on how they work, but we can fill you in on that part from our own research.
Aloe Vera provides moisture and works to soothe and protect skin.  This soothing feature is especially important for the fragile skin around the eyes.
Squalene is a powerful moisturizer that originates from olives.
Brown Seaweed Extract contains minerals and antioxidants for better protection and skin health.
Fennel Extract helps skin replace lost ceramides to improve skin's resilience, tone and texture.
Essential Fatty Acids to help restore the lipid balance.
You should apply morning and night under the eye, making sure not to get any in the eye or on the eyelid.  You should note that Nu Skin Intensive Eye Complex isn't necessarily meant to be used on lined or wrinkled skin.  It is primarily a moisturizer that works to nourish and protect the skin from future wrinkles.
Nu Skin Intensive Eye Complex Pros and Cons
It always helps to consider both sides of a product or service before diving in.
Advantages of Nu Skin Intensive Eye Complex
It absorbs quickly.
It contains antioxidants.
It's dermatologist, allergy, and sensitivity tested.
The tube packaging will maintain the integrity of the ingredients.
Disadvantages of Nu Skin Intensive Eye Complex
It doesn't contain wrinkle reducing ingredients.
It is a little on the expensive side.
Some

Nu Skin Intensive Eye Complex

reviews show disappointment in the fact that it doesn't fight wrinkles.
Where to Buy
Nu Skin Intensive Eye Complex is available online and through Nu Skin distributors.  Online, a .5 oz tube can be found for anywhere from $24 to $35.  You can find it on the Nu Skin website and several other online retailers.
Conclusion
Nu Skin Intensive Eye Complex would be best for someone in her twenties who wants to keep her skin moist, hydrated, and protected from future wrinkles.  Some of the best reviews come from satisfied customers that fall into this category.  If you're looking for something that specifically diminishes the look of wrinkles you already have, you should find another product, but if you want to nourish and protect the delicate skin around your eyes, Nu Skin Intensive Eye Complex might just be the way to go.
Have You Used Nu Skin Intensive Eye Complex?  Leave Your Review Below!
Our #1 Choice for an Eye Treatment – Elite Serum RX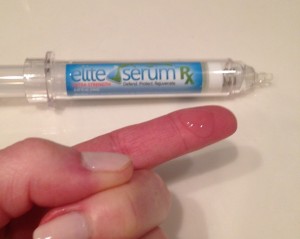 Elite Serum RX packs a powerful punch to reduce wrinkle depth up to 30%! It contains the peptide Argireline, which Dr. Oz has said to be the best needle free alternative to cosmetic injections. You'll see a reduction in dark circles, under eye bags, diminished wrinkles, fine lines and crows feet.
What I love the most about this product is how quickly it de-puffs tired eyes and how soothing it is. Its formula is colorless, odorless and is as gentle as water. I've had remarkable results using this product and I love that it comes in an airtight syringe to keep the ingredients fresh!
Read my official review of Elite Serum RX here
How Women Found This Review:
and nu skin eye cream
User Questions and Answers
User Questions and Answers
No Questions Have Been Answered For This Article.