Mary Kay Indulge Soothing Eye Gel
Reviewed by:
Teresa Walker
Mary Kay Indulge Soothing Eye Gel Overview
Lots of us need something cool and soothing to relieve tired puffy eyes.  Mary Kay Indulge Soothing Eye Gel wants to be that product for you.  It's marketed as a cool and soothing gel that reduces puffiness while hydrating and firming delicate skin and increasing elasticity.
Once you look at the reviews and what people are saying about Mary Kay Indulge Soothing Eye Gel, you start to realize that it really is pretty much just about the soothing and cooling.  It doesn't seem to do much for lines, wrinkles, or the appearance of aging.  It just cools and de-puffs tired morning eyes.  Now that's not necessarily a bad thing.  If that's what you're looking for, then this could be just what you want, but if you're interested more in an all-around product, you may need to keep looking.
Mary Kay Indulge Soothing Eye Gel Ingredients and How They Work
While reviews are important and a great way to get a feel for how people use a product and how well they like it, reviews aren't everything.  You also need to know what's in the product to understand just how effective it may be for your needs.  When we looked at the ingredients list, we were actually pleasantly surprised at what's there:
Cucumber Extract will definitely cool and soothe a tired and puffy eye area.
A few other soothing botanicals are added, and they also offer antioxidant protection as well. These include Dog Rose Hips and Euphrasia Extract.
Witch Hazel is added for its tightening effect, but unfortunately, this could prove more irritating than anything else.
Sodium Hyaluronate binds to water molecules to provide hydration while it plumps out lines and wrinkles.
The fact that Mary Kay Indulge Soothing Eye Gel is a gel helps make it cooling, soothing, and refreshing, especially if you keep it in the fridge like some people do.  You can apply it morning and or night, though most customers seem to have found that it's best for a morning pick me up.  Just be sure to let it dry before applying make up or you could get some product peeling.
Mary Kay Indulge Soothing Eye Gel Pros and Cons
Advantages of Mary Kay Indulge Soothing Eye Gel
It's very affordable.
It feels good going on.
A little goes a long way.
Disadvantages of Mary Kay Indulge Soothing Eye Gel
Plenty of Mary Kay Indulge Soothing Eye Gel reviews indicate that it can be irritating to skin and eyes.  My guess is it's the Witch Hazel.
It isn't particularly hydrating.
Where to Buy
You can purchase Mary Kay Indulge Soothing Eye Gel through a Mary Kay representative or online.  One advantage, of course, of using a rep is that you will probably get to try before you buy.  But if want to just take the plunge, you can find it at the Mary Kay website or Amazon.  The ½ ounce jar retails for $15.
Conclusion
Mary Kay Indulge Soothing Eye Gel probably won't be your go to anti-aging eye cream.  But it's priced reasonably enough and it lasts long enough that you might choose to pop a jar in the freezer so you have something for those mornings when you just can't get the sleep out of your eyes.  If having an eye gel on hand for that reason appeals to you, Mary Kay Indulge Soothing Eye Gel is a great option.
Have You Used Mary Kay Indulge Soothing Eye Gel?  Leave Your Review Below!
Our #1 Choice for an Eye Treatment – Elite Serum RX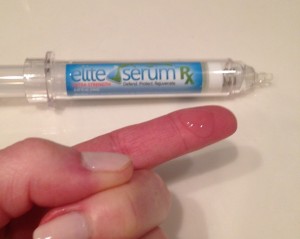 Elite Serum RX packs a powerful punch to reduce wrinkle depth up to 30%! It contains the peptide Argireline, which Dr. Oz has said to be the best needle free alternative to cosmetic injections. You'll see a reduction in dark circles, under eye bags, diminished wrinkles, fine lines and crows feet.
What I love the most about this product is how quickly it de-puffs tired eyes and how soothing it is. Its formula is colorless, odorless and is as gentle as water. I've had remarkable results using this product and I love that it comes in an airtight syringe to keep the ingredients fresh!
Read my official review of Elite Serum RX here
User Questions and Answers
User Questions and Answers
No Questions Have Been Answered For This Article.