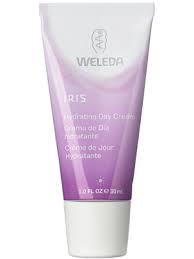 Weleda Iris Hydrating Day Cream Review
ReviewWeleda Iris Hydrating Day Cream Overview
When your skin is dry, very dry, or very very dry, you need some serious moisture. Some dry skin isn't at all sensitive and can take almost whatever you put on it. But some aren't so fortunate. These unlucky ladies need something that will provide all the extra hydration they need without using any ingredients that tend to irritate or break out sensitive skin.
Weleda Iris Hydrating Day Cream wants to be that moisturizer for dry skin, but it looks like it may not be appropriate for sensitive skin. That's the impression I got from my initial look into this stuff, and we'll talk more about it throughout the review.
The promise of Weleda Iris Hydrating Day Cream is that this rich cream works to balance out your skin's own hydration and to fight against dehydrating forces in the environment. Your skin stays silky smooth and soft all day long.
Weleda Iris Hydrating Day Cream Ingredients and How They Work
The key signature ingredient is the Biodynamic Iris Root that works to rebalance and restore moisture to your skin. It's also got:
Jojoba Seed Oil for rich hydration.
Glycerin for skin-identical hydration that won't irritate skin.
Cocoa Seed Butter and Shea Butter for emollience and softness.
Beeswax to protect skin against moisture loss.
Then there are the essential oils, and these may be the culprits in the problems that some women mention in terms of their sensitive skin. There's:
Linalool from the Lavender plant
Limonene
Citronellol
Genaniol
Citral
Eugenol
While these are all fine for most people and may provide some degree of both fragrance and antioxidant protection, for a lot of people, they just cause irritation. Add in the Alcohol and Witch Hazel in fairly significant amounts, and you definitely could have a problem with irritation and/or breakouts.
Weleda Iris Hydrating Day Cream Pros and Cons
Advantages of Weleda Iris Hydrating Day Cream
The tube packaging protects the integrity of the ingredients.
It's pretty affordable.
It absorbs well and isn't greasy.
Disadvantages of Weleda Iris Hydrating Day Cream
There are a significant number of

Weleda Iris Hydrating Day Cream

reviews where customers complain that they broke out or had some kind of reaction from using this product.
It contains a significant number of irritating ingredients.
Where to Buy
You can purchase Weleda Iris Hydrating Day Cream online through a few different supplement, vitamin, and skincare shops. The 1 ounce tube retails for $20.50.
Conclusion
The price is right, but I wouldn't bet on Weleda Iris Hydrating Day Cream. It's caused problems for too many people and has too many problematic ingredients for me to be able to recommend it.
Have You Used Weleda Iris Hydrating Day Cream? Leave Your Review Below!
User Questions and Answers
User Questions and Answers
No Questions Have Been Answered For This Article.