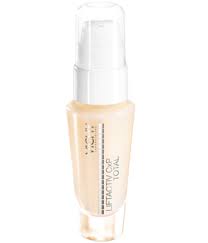 Vichy LiftActiv CxP Total Serum Review
Vichy LiftActiv CxP To
tal Serum Overview
Okay, I have to admit. They make this stuff sound awesome. The marketing tells you that Vichy LiftActiv CxP Total Serum was inspired by research into medical prolonged-release drug therapy, and that it's able to continuously release a pure dose of Vitamin C into your skin where it boosts the production of collagen and elastin. You need more collagen as you age because collagen is what gives your skin its firmness and resilience. And get this. It visibly transforms your skin in just 4 days. And according to the reviews, it's even more immediate than that. So where can I get this stuff, and why don't I have it already, right?
Well not so fast. We're here to shed some truth on the marketing promises. Promises, 'cause let's face it. Marketing can say just about anything, but the truth is squarely in the pudding.
Vichy LiftActiv CxP Total Serum Ingredients and How They Work
The main ingredient in focus is the Vitamin C. On top of being a great antioxidant, Vitamin C also stimulates new skin cell growth and collagen and elastin production within your skin. So skin becomes more radiant and glowing as well as firming, plumper, and presenting with fewer wrinkles and lines.
This lightweight serum also contains:
Monosaccharide R which increases the effectiveness of the Vitamin C.
Glycerin for skin-identical hydration that won't irritate.
Salicylic Acid to exfoliate and deep into pores.
Titanium Dioxide, Yellow Dye, and Mica to provide a bit of coverage and light deflection away from your tiniest imperfections.
Recommended use is morning and/or evening, either alone, under an additional moisturizer, or straight under makeup.
Vichy LiftActiv CxP Total Serum Pros and Cons
Advantages of Vichy LiftActiv CxP Total Serum
For a vitamin C serum, Vichy LiftActiv CxP Total Serum is fairly affordable.
The pump packaging will help keep the Vitamin C intact (though the clear glass may somewhat negate that).
There are plenty of Vichy LiftActiv CxP Total Serum reviews from women claiming it makes their skin look radiant immediately.
Disadvantages of Vichy LiftActiv CxP Total Serum
The clear bottle may not keep the ingredients intact.
A lot of what causes women to look younger right way is the cosmetic effect of the Mica, the Titanium Dioxide, and the Yellow Dye. While these may or may not be individually problematic, they are cosmetic in effect, not skincare.
Where to Buy
You can purchase Vichy LiftActiv CxP Total Serum online. The one ounce pump retails for $46.
Conclusion
I'm a bit on the fence about this one. It gets a lot of good reviews, but I have a sneaking suspicion that what people like about Vichy LiftActiv CxP Total Serum is its cosmetic effect of covering lines and wrinkles and giving your skin a bit of a glow. There's nothing wrong with this per se, but it's more cosmetics than skincare, and our objective is to find skincare products that work. That said, if that slightly covered up look is what you're after, and you don't like to use makeup, Vichy LiftActiv CxP Total Serum may be exactly what you're looking for.
Have You Used Vichy LiftActiv CxP Total Serum? Leave Your Review Below!
User Questions and Answers
User Questions and Answers
No Questions Have Been Answered For This Article.