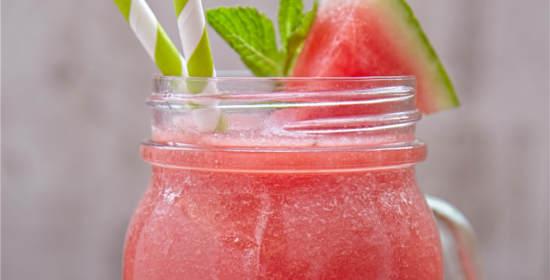 Watermelon Smoothie for Detoxing
Simple cleansing practices can keep your body feeling light, hydrated and energized. Summertime fruits like watermelon are excellent for detoxing and helping the body to flush out excess toxins and slim down.
Combined with cayenne pepper, this watermelon smoothie is also great for your skin since it contains powerful anti-oxidant and anti-inflammatory properties!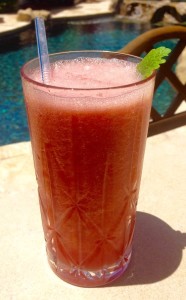 Watermelon Smoothie Ingredients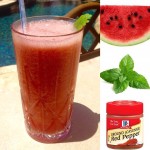 3 cups of fresh watermelon
3-5 sprigs of fresh mint
2 dashes of cayenne pepper
6-8 ice cubes
Throw all of the ingredients in a blender and drink up!
You can also add lemon, lime or ginger for extra zing and added detox benefits and even a handful of kale for extra greens – you won't even taste it.
I threw in a couple of lemon balm sprigs since I had it in my herb garden.
Watermelon Smoothie Benefits
Hydrate, detox, plump skin and lose weight!
1. Watermelons supply you with an abundance of electrolytes, making them a super sweet choice for hot summer days, long runs or physical activity. Drink a watermelon smoothie half an hour before your next run or workout class and I guarantee that you will have more energy! The anti-oxidant and hydrating properties of watermelon will also help clear and plump your skin.
2. Cayenne Pepper is a powerful spice, used to combat digestive issues, detox your body, is an anti-bacterial, anti-viral and anti-fungal and even fights allergies! Cayenne pepper works as an anti-inflammatory to calm your digestive system and reduce inflammation in your body, including your skin. It also revs metabolism to aid in weight loss.
3. Mint, including fresh spearmint and peppermint, contains potent antioxidants along with several key vitamins and minerals you need for good health. Mint also has small amounts of fiber, vitamin A and potassium.
Do you have a favorite watermelon smoothie recipe? Comment below!
User Questions and Answers
User Questions and Answers
No Questions Have Been Answered For This Article.