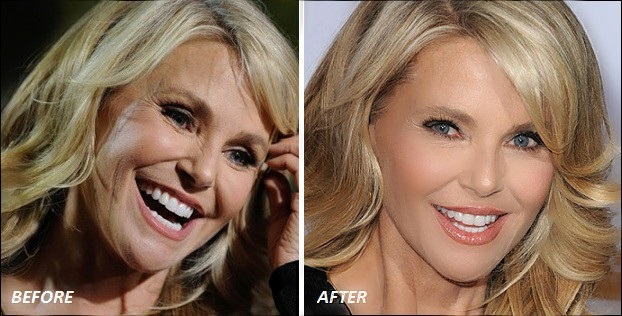 Lumare Skin Anti Aging Serum Review – Does Christie Brinkley Really Use it?
Lumare Skin Anti Aging Serum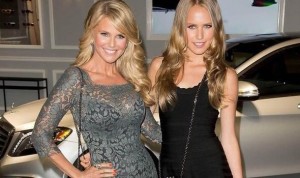 I love discovering new wrinkle creams, in fact I scour the internet in hopes of finding the next "miracle cream" so I can write a review on the product. What could be better than a wrinkle cream that works better than botox and takes 10 years off of your face?
And whose face is the public more drawn to other than our own American age-defying beauty, Christie Brinkley? At 61 years old, she looks fabulous! What is her secret?!
And talk about a sweet deal – what could be better than a FREE TRIAL of this miracle in a bottle that ENews claims she uses?
But is Lumare really free, and did Christie Brinkley really rebound after her divorce and take years off of her face using Lumare Skin Anti Aging Serum? Is she really mistaken for the twin sister of her 16 year old daughter, Sailor from using this product?
Let's investigate further. I believe in miracles folks, but sometimes if the claims seems too good to be true, you need to take a closer look!
HOLLYWOOD Exclusive: Christie Brinkley's Unimaginable Appearance Makes Our Jaws Drop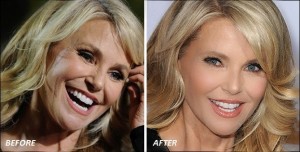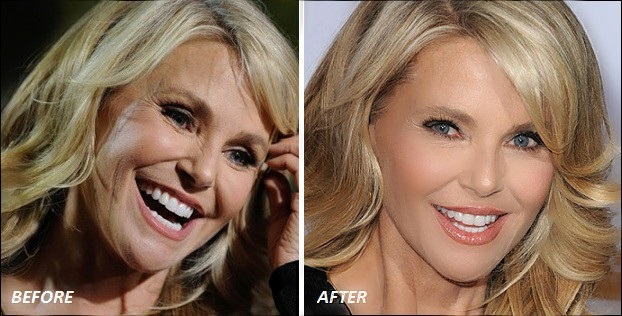 The headline is enticing, to say the least, and the before and after pictures do show Christie with softer features (it's easy to mislead using different lighting in pictures).
Lumare Skin Anti Aging Serum claims in an "E News" article that after Christie's divorce, her skin needed reviving (fake article by the way, and discernible by the masked URL made to look like it's an E News article).
She had developed bags under her eyes, crows feet, and laugh lines. The article claims that Christie's dermatologist recommended that she use Lumare Skin Anti Aging Serum, and "that day, Christie's face changed forever."
The article quotes Christie as saying: "I Couldn't believe how quickly I saw the effects. Within a week, I had already noticed a difference that had nearly brought me to tears" – Christie
Did Christie Brinkley Really Transform Using Lumare Skin Anti Aging Serum?
I hate to be the bearer of well, the truth, but I highly doubt Christie is using Lumare Skin Anti Aging Serum, but nice try rip off artists!  She has great genes, and the money to use the world's top quality products, and let's face it – most celebs dabble in a little plastic surgery eventually. However, I will say Christie has done an excellent job taking care of herself and not allowing plastic surgery to change her overall appearance so kudos to this beautiful woman!
The Reality of the Lumare Skin Anti Aging Serum Free Trial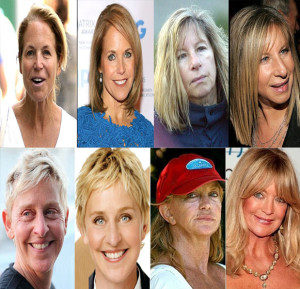 I've been seeing these misleading articles for years! Free trial offers such as the Lumare Skin Anti Aging Serum have morphed over time – the celebs change, the name of the creams change, but the remarkable claims and offers for free trials remain the same.
I have no shame in labeling any and all such misleading advertisements as "wrinkle cream scams" and unfortunately people are falling for these scams left and right.
They sign up for the "free trial" and are required to enter their credit card number to pay for the minimal shipping and handle of $5.95, and unknowingly agree to the "terms and conditions" that you couldn't find to save your life!
And then the harsh reality sets in when they receive their credit card statement and they see a recurring monthly charge of $98.71 for Lumare Skin Anti Aging Serum. They can't believe that the "free trial" they signed up for was actually not a free trial at all, but an auto ship, auto rebill program where they will be sent Lumare Skin Anti Aging Serum monthly from now until they can jump through the massive hoops it takes to actually cancel their standing order.
Lumare Anti Aging Skin Serum Free Trial Terms & Conditions
If you look closely on the Lumare Skin Anti Aging Serum free trial sign up sales page (or most free trial sales pages for that matter), this is what you would find under their Terms & Conditions (I copied and pasted from Lumare's website, but really had to look around before I found it).
And please notice the typos (bolded) – I see typos consistently on these free trial scams since most of them originate from South American countries where English is not their first language. The typos are not always glaring, but they are usually there, and they should serve as a RED FLAG.
Lumare Skin 14 Days Trial Offer Terms and Conditions:
Please take a few minutes to read the following as when You purchase the Lumare Skin Trial Offer You automatically accept the following terms and conditions. We are confident you will see the benefits of using our Lumare Skin Product within our 14 Days trial. You are taking the next step toward a more confident you! Upon signing up for your trial offer, your credit card provided will be charged a One-time processing fee of . If you contact customer service to terminate your trial enrollment within 14 Days of the date that you enroll in the Program, you will not receive any additional product and you will not be charged anything else. Your enrollment date is the date that you submit your order for the trial product. All orders are shipped within two business days.
If you do not cancel within 14 Dayss of your intial trial purchase, we will charge the same card you provided the full product cost of $98.71 and enroll you in our auto ship program, which will ship you a fresh monthly supply of the product, and charge your card $98.71 every 30 days thereafter. You can cancel out of the autoshop program at anytime by contacting customer service at or [email protected], 24 hours, 7 days a week.
Lumare Skin Anti Aging Serum Conclusion
Lumare Skin Anti Aging Serum is the latest wrinkle cream scam I've seen in circulation, and personally I would avoid it like the plague. Lumare uses misleading and fake news articles to quote celebrities such as Christie Brinkley, Katie Courig and Ellen Degeneres who do not use these products in real life, and as far as the products go, I wouldn't consider them anything special. I would consider 99% of them to be average moisturizers with no cutting edge ingredients included in the mix.
I've seen these ads circulating for years and I can identify them easily, however the average consumer may not. I hope that you have found this article because you were curious about the product and you're doing research before purchasing.
However, if you've found yourself here because you unknowingly signed up for the free trial and now you're pissed after finding charges on your credit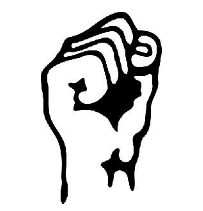 card, here's what you should do:
Contact Lumare immediately and cancel your trial. The email published in the terms and conditions is: [email protected] or call (8-8-8)263-6216 or 1-844-

650-6010

. Don't let them push you around, demand to speak to a supervisor if they give you the run around (which they will).
Ask them if they will issue a refund if you return the unused portion. Sometimes they will but they will oftentimes still charge you a restocking fee of roughly half the product cost.
If you can't reach them (typical for scams like this, i.e. bad emails, bad phone numbers), you may have to go to your bank and dispute the charges and/or cancel your credit or debit card altogether.
Fight back: You can file a complaint with the BBB online or call them if you are unhappy with the results of their return policy with your case.
Want more information? Read our article Beware of Free Trials for Anti-Aging Products – An Investigative Report
Check out my personal recommendations by reading about our Top 3 Wrinkle Creams
How Women Found This Review:
and lumare anti aging system reviews, and lumare anti aging system, and lumanereskin reviews, and lumanere christy brinkley
Click here to submit your review.
---
Horrible product, plan, and customer service
Lumare Skin Anti Aging Serum Review – Does Christie Brinkley Really Use it?
This might be the worst company that I've ever dealt with. There's no such thing as a free trial with Lumare. And if you have the bad fortune of trying to deal with their customer service people, especially Alan, then prepared to spend a good hour of your life on the phone with no results. I'm filing with the Better Business Bureau and would highly advise anyone considering to use this product not to. It's not just a poor product, and horrible scam!!!!



---
User Questions and Answers
User Questions and Answers
---
Q: I agreed to get the sample of the eye cream and the ageless face complex all I had to pay was shipping.I have my bank statement and there has been an amount of $89.84 and one for $88.62. Can trhis be returned to me or either my account? thanks -glenda
A:
Glenda, call your bank and get the phone numbers, you need to call the cream companies and cancel your subscription and ask for a refund, which they normally will not give if you're past the 14 day free trial. Rachel
Was this question helpful to you?
2 out of 2 people found this question helpful.
---
Q: I was a previous customer and would like to restart. I was receiving the product at a 75% discount. Can I restart at that rate? -Jean Reed
A:
Jean, I wouldn't know. I warn against Lumare since it scams people into unknowing auto billing arrangments. I would steer clear of it and find a better cream. Rachel
Was this question helpful to you?

---