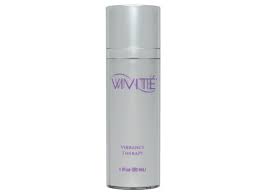 Vivite Vibrance Therapy Review – Does It Work?
If I've said it once I've said it a thousand times. Getting rid of dark spots and patches is one of the most difficult and frustrating skincare problems that most women come across. Yours my be from freckles, hormonal changes, sun damage, or acne scars. But no matter what caused them in the first place, you're stuck with them until you can find a product that actually helps… and that's no easy task.
I recently came across a product called Vivite Vibrance Therapy, and I have to say, the buzz on this product is pretty positive. Women are making declarations like "Finally! Something that Works!" Of course, it doesn't seem to work quite as well for absolutely everyone, but tell me, what does? In any event, our interest was piqued so we went digging for more information.
Vivite Vibrance Therapy Ingredients and How They Work
At its core, Vivite Vibrance Therapy is an AHA exfoliator with 15% Glycolic Acid. That's a pretty strong combination, and the pH is appropriate, so you should get some real exfoliation from it. In fact, although it's recommended for daily use, you may want to limit it to a couple times a week because it's so strong. (And you'll definitely need serious daily sun protection while using this with any frequency).
The exfoliation helps diminish hyperpigmentation by removing the outer layer of skin, but there are several other actively involved components as well. The formula also includes:
Retinol to encourage new, healthy skin cell generation.
Licorice Root and Mulberry Extracts to inhibit the action of melanin (dark pigment) in the skin.
Dimethicone for a smooth, silky feel upon application.
Vitamin E, Green Tea, and Grape Seed Extract to provide antioxidant protection against free radical damage.
Vitamin C to provide further antioxidant protection as well as an increase in collagen production and skin cell regeneration.
Vivite Vibrance Therapy Pros and Cons
Advantages of Vivite Vibrance Therapy
It contains a nice range of good skincare ingredients that cover, exfoliation, collagen production, skin cell regeneration, and melanin inhibition.
Most of the Vivite Vibrance Therapy reviews we've seen are very favorable with women everywhere claiming that it just works.
It's fragrance-free.
The pump dispenser maintains the integrity of the ingredients.
Disadvantages of Vivite Vibrance Therapy
It's expensive.
There seems to be some counterfeit product being sold at Amazon.
Some say it made them break out.
The instructions say to use it daily (even twice daily) but dermatologists recommend that you use this concentrated strength of glycolic acid on a less frequent basis.
The serum has a slight yellow/orange color that some customers don't like.
Where to Buy
You can fine Vivite Vibrance Therapy online. The one ounce pump sells for $119.
Conclusion
We know how hard it is to manage hyperpigmentation on your skin. Vivite Vibrance Therapy is certainly expensive, but given the customer feedback, if you can afford it, I'd say give it a go.
Products Similar to Vivite Vibrance
One of my favorite skin brightening products is the Illuminatural 6I. Read the reviews! The results are amazing! It sells for $49.95, which is a little pricey but you only have one face, and we want to keep it looking healthy and beautiful!
Have You Used Vivite Vibrance Therapy? Leave Your Review Below!
User Questions and Answers
User Questions and Answers
No Questions Have Been Answered For This Article.