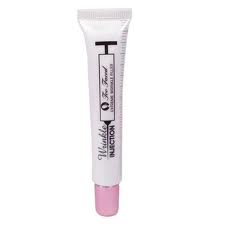 Too Faced Wrinkle Injection Review – Instant Miracle?
Too Faced Wrinkle Injection Overview
When it comes to the fight against aging skin, we need to have as many weapons as possible in our arsenal.  We need to prevent wrinkles, repair wrinkles, and hide wrinkles.  And we need products that perform each of these taskes.  One effective way to hide wrinkles is by using a primer.  These slippery, usually silicone based, creams go on your bare or moisturized skin to create a smooth surface for makeup.  If they do their job, they also fill in wrinkles, plump them out, and make them disappear.
One popular primer is Too Faced Wrinkle Injection.  According to the product description, its silky silicone base is infused with healthy antioxidants and collagen enhancers, so not only do you start the day with bright, smooth, wrinkle-free skin, but you also get the long-term benefits of wrinkle reduction over time.
Too Faced Wrinkle Injection Ingredients and How It Works
The primary effective ingredients in Too Faced Wrinkle Injection are various forms of silicone.  This is because no other topical ingredient works as well to smooth out the skin's surface.  And that is, after all, the goal of any good primer.  To increase the long term benefits, Too Faced Cosmetics  adds antioxidants like Vitamin C and Mulberry Extract to help prevent free radical damage and Lumiskin to add brightness and luminosity.
You should apply Too Faced Wrinkle Injection in the morning, after cleansing and moisturizing.  A little goes a long way, so only use a few drops. The effect is temporary, however, so you may find yourself needing to re-apply.
Too Faced Wrinkle Injection Pros and Cons
There are advantages and disadvantages with just about everything.  Making a habit of weighing them against each other before making a purchase can save you a lot of money as well as counter space in the bathroom.
Too Faced Wrinkle Injection Benefits
It smooths out and fills in wrinkles.
A little goes a long way.
Most Too Faced Wrinkle Injection reviews are positive ones written by satisfied customers.
It works instantly.
Too Faced Wrinkle Injection Drawbacks
The effects are temporary.
Some reviewers claim to have to re-apply after only an hour or two.
The long term benefits are minimal to none.
Some say it leaves a flaky residue if you use too much.
Where to Buy
Too Faced Wrinkle Injection is available through plenty of online sources.  The Too Faced website sells a .36 oz tube for $12, and we've seen prices ranging as high as $24 for that same tube.  If you prefer to try before you buy, Sephora carries Too Faced Wrinkle Injection as well.
Conclusion
If instant, non-permanent wrinkle reduction is what you're looking for, and you'd like to avoid needles or injections, then Too Faced Wrinkle Injection is most definitely worth a try. A few things to remember, however, are that a little goes a long way, it doesn't last very long, and it doesn't do much to actually improve the condition of your skin.  That said, Too Faced Wrinkle Injection is well liked by women all over, and it's pretty cheap. We say go for it.
Have You Used Too Faced Wrinkle Injection?  Leave Your Review Below!
User Questions and Answers
User Questions and Answers
No Questions Have Been Answered For This Article.