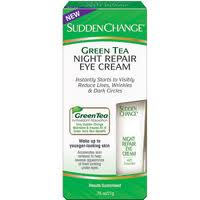 Sudden Change Night Repair Eye Cream Review
Sudden Change Night Repair Eye Cream Overview
In the eternal search for youthful looking skin, there is no shortage of formulas to try.  Narrowing your search to eye creams may make it a bit more manageable, but you still have plenty of choices.  The skin under your eyes is very thin and requires special attention.  Ideally, you look for a product that reduces fine lines and wrinkles, eliminates puffiness, and lightens dark circles.  Sudden Change Night Repair Eye Cream claims to work on fine lines, wrinkles and dark circles.  It is promoted as a high potency formula that works while you sleep, so you can wake up to younger looking skin each morning.
Ingredients and How It Works
Sudden Change Night Repair Eye Cream has green tea as its main active ingredient.  Green tea works as an antioxidant to combat damaging free radicals and accelerate your skin's renewal process.  Additional ingredients like grape seed extract, and vitamins E and A also provide nourishment and moisture to help keep skin healthy and hydrated.
Apply the cream nightly by squeezing a small ribbon onto your fingertip and applying it from the inner corner to the outer corner of the eye.  Used once a day, it promises to improve the look of your skin quickly, and the actual condition of your skin over the long term.
Pros and Cons of Sudden Change Night Repair Eye Cream
When choosing a skin care product, be sure to consider the advantages and disadvantages carefully.
Advantages
Sudden Change Night Repair Eye Cream is widely available through both online and local retailers.
It is inexpensive.
It contains green tea which has been shown to be an effective antioxidant.
Some customers have had success using it, particularly with dark circles.
It smells good.
Disadvantages
The ingredients list contains more fillers and preservatives than anything else.
It says it increases elasticity, but there are no ingredients listed that would have that effect.
There have been no clinical studies of this product.
There are many lackluster reviews from users who state that they've received little or no benefit from using it.
Where to Buy Sudden Change Night Repair Eye Cream
It seems Sudden Change Night Repair Eye Cream is available almost everywhere, in drugstores like CVS and Walgreens and online retailers like Amazon and Drugstore.com.  It sells for anywhere from $8 to $12 for a .75 oz bottle.
Conclusion
My experience is that most wrinkle creams work for some people, but not for all.  This product falls into that category as well.  With green tea as its main ingredient, those who respond well to antioxidants may find Sudden Change Night Repair Eye Cream to be well worth the small investment.  And given the customer reviews, if dark circles are your main issue, it might be worth it to you too.  If you don't find it to be all its cracked up to be, you could still use it as a light, all-over facial moisturizer and go back to the drawing board in your search for the perfect eye cream.
Read about our Top 3 Wrinkle Creams
Have You Used Sudden Change Night Repair Eye Cream?  Leave Your Review Below!
User Questions and Answers
User Questions and Answers
No Questions Have Been Answered For This Article.