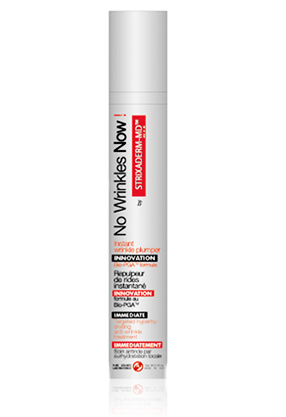 Strixaderm MD Review – Does This Work?
Strixaderm MD Overview
Strixaderm MD is manufactured by a Florida based company named Pure Source Laboratories.  They produce a line of anti aging skin care products, including Strixaderm MD No Wrinkles Now, an instant wrinkle reducer that claims to provide immediate and progressive lessening of visible lines, age spots, and wrinkles.  It claims to not only reduce the visibility of wrinkles but to also moisturize,  create "a  continuous, elastic and smooth film on the surface of the skin", and promises your skin will be lifted, more radiant and younger looking after use of Strixaderm MD No Wrinkles Now.  Can it really do all it says it can?
Strixaderm MD – How it Works and Its Ingredients
Strixaderm MD has a user friendly, secure website where  you can discover some information about No Wrinkles Now. It does include a FAQ page, a money back guarantee, and customer service contact information. What it doesn't include, however, is much information about what's in the product.
There is an ingredients page, however, it focuses mainly on names it has developed and most people won't recognize.  The site informs us that Strixaderm MD No Wrinkle Now works better than Hyaluronic Acid (which is scientifically proven, by the way) because it contains Bio-PGA, a solution of gamma-polyglutamic acid.  There is also Symdiol 68 T, a  moisturizing agent that is claimed to be six times more effective than glycerine.  None of this really tells us anything. Even after reading about it, I'm still not sure what is actually in Strixaderm MD products.
One page does claim the product has been clinically tested and proved that No Wrinkles Now increased collagen production by 35%, lessened wrinkle density by 37%, and reduced the appearance of wrinkles by 45%.  Unfortunately, they did not provide any information about the clinical trials other than these unverified results.
Where to Buy Strixaderm MD
You may order Strixaderm MD products from their official website.  No Wrinkles Now cost $79 and shipping is free on orders over $50. It was also seen at other websites for lower prices, however, it is unclear if the guarantee is enforceable if you order from other retailers.
Strixaderm MD Pros
Secure website
Money back guarantee when purchased from website
Strixaderm MD Cons
Ingredients not fully disclosed
No proof of offered clinical information
Does not contain scientifically proven skin care ingredients
Our Conclusions
Although the manufacturer makes Strixaderm Md products sound terrific, there is nothing there to back it up.  The ingredients are unfamiliar and the clinical studies they provide are simply unvalidated numbers.  Strixaderm MD does offer a money back guarantee on its product when purchased on their website and the contact information is provided.  Without some kind of proof to back up their claims and more disclosure about what is actually in Strixaderm MD No More Wrinkles, however, I cannot bring myself to recommend this product.  There are too many other anti aging skin care products available that are more transparent about their ingredients than Strixaderm MD seems to be and others provide actual results from verifiable clinical studies. My advice is to choose one of those products and don't spend your money on Strixaderm MD.
Have You Tried Strixaderm MD? Leave Your Review Below!
User Questions and Answers
User Questions and Answers
No Questions Have Been Answered For This Article.