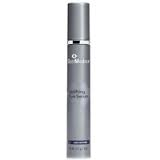 SkinMedica Uplifting Eye Serum Review
SkinMedica Uplifting Eye Serum Overview
SkinMedica is a California skincare company that specializes in anti-aging products developed by dermatologists.  Some of the line, like the TNS products, are definitely worth looking at.  So we decided to dive into one of their products for review today.
SkinMedica Uplifting Eye Serum is an oil-free eye serum made to gently lift and hydrate the sensitive skin around your eyes.  As a result, you have the look of lifted, tightened skin with no puffiness and minimized fine lines and wrinkles.  The reviews for the product are mostly raves (with the exception of the few that talk about faulty dispensers) so this product definitely deserves a closer look.
SkinMedica Uplifting Eye Serum Ingredients and How They Work
The formula looks pretty good, I have to say.  There's:
Aloe Leaf Extract and Willow Bark Extract to soothe and reduce puffiness.
Kojic Acid which is a natural skin lightener which acts on melanin production.
Lactic Acid as an exfoliant to slough away dead outer skin and reveal the newer, lighter skin beneath.
Retinol to encourage new skin cell generation.
Vitamin E, Green Tea, and Algae Extracts soothe and act as antioxidants to fight against free radical damage from sun and the environment.
Urea, Allantoin, and Hyaluronic Acid hydrate and have a plumping out and filling in effect on wrinkles.
Instructions are to apply one to two drops of SkinMedica Uplifting Eye Serum beneath the eye once or twice daily.  A little goes a long way and you should not apply it to your eyelids.   A few of the SkinMedica Uplifting Eye Serum reviews we saw complained that the pump dispenser broke shortly after purchase.  If it were only once, we'd figure it was a fluke, but there are a few of these complaints out there, so it does make you wonder.
SkinMedica Uplifting Eye Serum Pros and Cons
Advantages of SkinMedica Uplifting Eye Serum
It contains a wide range of anti-aging ingredients.
The pump dispenser keeps the antioxidants and retinol effective.
Most

SkinMedica Uplifting Eye Serum

reviews are really pretty positive.
Disadvantages of SkinMedica Uplifting Eye Serum
The pump dispenser seems to have some issues.
It's expensive.
Where to Buy
You can purchase SkinMedica Uplifting Eye Serum online through the SkinMedica website or several other retailers.  The ½ ounce pump retails for $55. There's a 30 day satisfaction guarantee if you buy from the SkinMedica website.
Conclusion
SkinMedica Uplifting Eye Serum is a great eye serum filled with antioxidants and other ingredients that will simply improve the look of your skin.  Aside from the expense, we don't see why you wouldn't put it all over your face.  Our only concern is the potentially faulty pump.  The website offers a money back guarantee within 30 days of your purchase so you might want to make your purchase there so at least you have recourse if it comes with a broken pump dispenser.
Have You Used SkinMedica Uplifting Eye Serum? Leave Your Review Below!
User Questions and Answers
User Questions and Answers
---
Q: Can u use this to firm eyelids or do u have something better for lids -Janice
A:
Hi Janice, check out my top 3 eye creams - the #2 cream - the Rejuvenating Eye Cream is the best one for firming and tightening since it contains caffeine and algae. All 3 are great choices but if firming is your main issue I'd go for the #2. It has a great feel and is gentle on the eyes. Thanks for your question. Rachel
Was this question helpful to you?

---