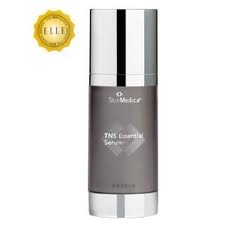 SkinMedica TNS Essential Serum Review – Is It Worth It?
SkinMedica TNS Essential Serum Overview
SkinMedica is a skincare company with a very particular philosophy.  "Everyone deserves to have naturally radiant skin."  Their anti-aging products are based on the idea that you can activate skin's own healing abilities with certain restorative ingredients.
When it comes to SkinMedica TNS Essential Serum, they claim the results are astounding.  You'll get an immediate visible smoothing of the skin.
Over time, you'll see a marked improvement in the appearance of fine lines, wrinkles and overall texture, a lightening of your age spots and other discolorations, and the radiance common to young skin.
So is this product revolutionary, or not?  The claims are pretty strong so we'll look at some evidence like ingredients and customer reviews to see if we should believe those claims.
SkinMedica TNS Essential Serum Ingredients and How They Work
At the core of this anti-aging serum is TNS, or Human Fibroblast Conditioned Media.  This is a growth factor blend that helps skin to regenerate itself to appear younger with fewer lines and wrinkles, and a more elastic texture and tone.
But it doesn't stop there.  SkinMedica TNS Essential Serum also uses:
3 peptides to help stimulate collagen to keep skin plump and elastic.
Several antioxidants to improve skin's appearance and health, and protect against free radical damage due to age and the environment.
Alpha Arbutin to lighten and brighten skin.
Hyaluronic Filling Spheres to help attract and trap water on the surface of skin.
The ingredients come in two separate chambers.  You pump the product onto the back of your hand, making sure you get some from each chamber.  Then you mix the product from each chamber together and apply to your face.  Recommended use is one or two times daily.
Pros and Cons of SkinMedica TNS Essential Serum
SkinMedica TNS Essential Serum Advantages
It uses state of the art ingredients.
There are plenty of favorable SkinMedica TNS Essential Serum reviews from satisfied customers.
SkinMedica TNS Essential Serum Disadvantages
It is very expensive.
There are no clinical tests citing its effectiveness.
There are several reports of one of the chambers clogging to the point that the product simply no longer comes out.
Where to Buy
SkinMedica TNS Essential Serum is sold by skincare professionals, like dermatologists and estheticians.   You can also buy it online at the SkinMedica website, Amazon or Dermstore.
The 1 oz pump sells for $260 at the website, but just $155 at Amazon. I am weary of buying skin care on Amazon, however, because you don't know who you're buying from and how they've been storing it.
Conclusion
SkinMedica TNS Essential Serum is definitely intriguing.  There are so many glowing customer reviews, we think it must have some merit.  Unfortunately, there are no clinical studies to back up the rave reviews.  And the price is so very high.
In the end, if you've got that kind of money to spend, look for something with published clinical trials of the ingredients, otherwise they're just claims that they can't back up.
Have You Used SkinMedica TNS Essential Serum?  Leave Your Review Below!
Click here to submit your review.
---
TNS Essential Serim
SkinMedica TNS Essential Serum Review – Is It Worth It?
This product has worked for me. It has reduced deep wrinkling and have even been asked by younger women what my secret is. (I'm 77). I've never spent this much on skincare. I also use retina. But the upside I used to spend more on makeup to try and cover my dull, sagging, and wrinkled skin. Now I can just use a tinted moisturizer.

---
SkinMedica TNS Essential Serum Review – Is It Worth It?
This stuff is amazing. I didn't realize how much until I noticed a spot on my hand where I had been mixing the serum prior to application. In just a couple of days the skin on my hand looked ten years younger. I have been using it for a week now on my hands as well and I am amazed at how different they look in just a short time. I have been embarrassed by my hands for several years and I am excited that there is now hope that they can look better.

---
User Questions and Answers
User Questions and Answers
No Questions Have Been Answered For This Article.