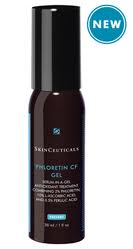 SkinCeuticals Phloretin CF Gel Review – Is It Worth It?
SkinCeuticals Phloretin CF Gel Overview
Some of the best treatments for aging skin are rich in antioxidants.  This is the case for with SkinCeuticals Phloretin CF Gel.  It falls into the high price category of anti-aging skincare, so we've set out to determine whether or not it's worth it.  Judging by the claims made by SkinCeuticals, it just may be.  According to the website, it protects your skin against UVA and UVB radiation, it stimulates collagen production, it lightens dark pigmentation spots, and it accelerates skin cell renewal.
In 2012, SkinCeuticals Phloretin CF Gel won the Allure Best of Beauty Award in the category of Best Ant-Aging Antioxidant.  This was for its unique ability to both protect and correct skin from environmental damage.  Its antioxidants provide broad-range protection against sun damage, and its collagen producing and cell regeneration properties heal and improve skin's radiance and texture.
SkinCeuticals Phloretin CF Gel Ingredients and How They Work
There are 3 primary active ingredients in SkinCeuticals Phloretin CF Gel:
2% Phloretin is a potent antioxidant that penetrates deep into the layers of skin to provide the widest range of free radical protection available.  It comes from the bark of apple trees, and has been clinically proven to help reduce pigmentation and help other ingredients absorb and penetrate deeper into skin's layers.  It also accelerates skin cell turnover for newer, more radiant looking skin.
10% L-Ascorbic Acid is a bioactive form of Vitamin C.  It neutralizes free radicals and promotes collagen synthesis.
0.5% Ferulic Acid is a plant-based antioxidant for neutralizing free radicals, reduces hyperpigmentation, and helps reduce inflammation.
You should apply 4-5 drops of SkinCeuticals Phloretin CF Gel to your clean, dry face each morning.
SkinCeuticals Phloretin CF Gel Pros and Cons
A comparison of the good and bad properties of any new product is a great way to decide if it would be a good fit for you.
Advantages of SkinCeuticals Phloretin CF Gel
It contains powerful antioxidants.
It's been recognized by Allure Magazine.
Some of the ingredients have been clinically tested.
Most SkinCeuticals Phloretin CF Gel reviews from customers are very favorable, citing more clarity, fewer discolorations, and a decrease in fine lines.
The pump dispenser will keep the ingredients from breaking down.
The gel formula is great for oily skin or combination skin.
Disadvantages of SkinCeuticals Phloretin CF Gel
It is very expensive.
Some have found that it can be irritating, especially to the eyes.
Where to Buy
SkinCeuticals Phloretin CF Gel is widely available online, including from the SkinCeuticals website and Amazon.  It generally runs a little over $150 for a 1 oz pump.
Conclusion
The benefits of Vitamin C and antioxidants for aging skin are undisputed.  SkinCeuticals Phloretin CF Gel combines these powerhouses to come up with a product that customers simply love.  The gel formula works especially well on oily and combination skin.  If you've got dry skin, SkinCeuticals Phloretin CF comes in a traditional serum form which might be better for you.  Judging by the ingredients and reviews, it's safe to say that this product is effective.  The only drawback is the price.
Have You Used SkinCeuticals Phloretin CF Gel?  Leave Your Review Below!
User Questions and Answers
User Questions and Answers
No Questions Have Been Answered For This Article.