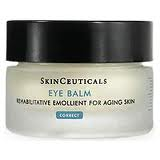 SkinCeuticals Eye Balm Review – Is it Worth the Money?
SkinCeuticals Eye Balm Overview
The SkinCeuticals company is built on a solid philosophy.  Their goal is to improve skin health using advanced skin care backed by science.  They believe that in order to maintain and improve skin, a product has to cover three fundamental elements: prevention of future damage, protection of currently healthy skin, and correction of damage already done.  When it comes to their Eye Balm, they may have hit the mark.  SkinCeuticals Eye Balm is a rich matte cream designed and formulated to target the three biggest problems faced by aging skin:  loss of moisture, slowdown of collagen production, and damage from free radicals.
Ingredients and How SkinCeuticals Eye Balm Works
The SkinCeuticals website is pretty vague about the specific ingredients found in their formulas.  They claim to use high levels of three effective antioxidants to fight against free radicals, but they don't say what those are.  Also listed are soy isoflavones which are used to promote collagen production, a key factor for firming and plumping aging skin.   Additionally, gorgonian extract is used to reduce under-eye puffiness and alpha bisabolol to calm irritated skin.  All of these ingredients and more are formulated in a rich, matte cream to soothe and hydrate mature skin.  The cream also delivers a luminescent sheen that diffuses light to lessen the appearance of dark circles.
SkinCeuticals Eye Balm is recommended by dermatologists, plastic surgeons, and other skincare professionals, and has been featured in several women's magazines like Redbook, Self, and Allure.
It is suggested that you use the Eye Balm once or twice daily by applying a small amount to the skin under the eye and on the brow bone, avoiding the eyelid.  You should follow this application with a sunscreen to protect skin from further photo-damage.
SkinCeuticals Eye Balm Pros and Cons
Advantages
SkinCeuticals is a highly respected skin care company.
They use pharmaceutical grade ingredients that are recommended by dermatologists.
SkinCeutical Eye Balm reviews are overwhelmingly positive.  Many customers say it's the best under eye cream they've ever tried.
It comes with a 90-day money back guarantee.
Disadvantages
The ingredients are not explicitly listed.
At $80 for a .5 oz jar, it's pretty expensive.
There have been some complaints of the product separating, making application more difficult and possibly less effective.
Where to Buy SkinCeuticals Eye Balm
SkinCeuticals Eye Balm is available through several different online sources.  The SkinCeuticals website sells it for $80, while a quick google search reveals prices as low as $55 from online stores such as Amazon.  It's also important to note that the SkinCeuticals website has a local provider locator option.  Here, you can find a dermatologist or skin care specialty store that carries their products.
Conclusion
While SkinCeuticals Eye Balm is definitely not cheap, many users say that a jar can last several months.  If that's the case, the price may not be that steep after all.  And with the scientific research, pharmaceutical grade ingredients, and loyal customer base to back up their claims, SkinCeuticals Eye Balm might just be worth it.  If you're still on the fence, visit a participating dermatologist or specialty store.  They may offer a free sample so you can give it a real test before you buy.
Have You Used SkinCeuticals Eye Balm?  Leave Your Review Below!
User Questions and Answers
User Questions and Answers
---
Q: I am 65 and started using SkinCeuticals. Obviously, my concern is the aging process of skin. I am fortunate that I do not have dark spots and a lot of wrinkles. What products do you recommend for me to use? Thanks. -Cherry Donovan
A:
Hi Cherry, from what I know of SkinCeuticals it's a great brand, although very pricey. But I have no problem paying for high quality skincare :)  I have several friends who swear by their sunscreen (even for beach volleyball - it works and stays put). I haven't tried these products personally so I couldn't tell you which specific products in their line to try.

If you aren't trying to treat dark spots and don't have much for wrinkles (lucky you!), then their basic anti aging products that hydrate, moisturize and help with cell turnover would probably work well for you. If you visit their website and click on "fine lines and wrinkles" a multitude of products come up, that'll at least narrow down your choice.

As far as high line medical grade skin care (much like Skinceuticals), I love Image Skincare and I've used their Vital C, Ageless, Max and Iluma lines extensively. I'm not affiliated with Image, I'm just a certified Image Skincare junky! That link will take you to their website. I wish I could be a partner with them, as I'm one of their biggest fans! :) But in all honestly I've never tried an Image product I didn't absolutely love. With your limited issues, the Vital C line may be fabulous for you.

Another brand I've tried lately is Perfectly Posh, I've been using the Moisture 911 (which has caffeine for tightening) along with mixing a few drops of their Cann I Be CBD Oil. CBD is actually really fabulous in skin care as its anti-inflammatory and contains MCT as the carrier oil which is great for hydration without being heavy (it's a chain from coconut oil).

It's really done a number to shrink my pores which I wasn't expecting and love the result. You can read about my top 5 moisturizers here and the Posh products are there with the links if you want to take a look. Posh isn't an expensive line, it's actually very affordable and a lot of it is "fun stuff" for the bath and shower but I do enjoy their products. Just an option if you don't want to continue with the high price tag of Skinceuticals. Thanks for your question, I appreciate you stopping by my blog!  xo ~ Rachel
Was this question helpful to you?

---