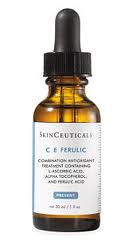 SkinCeuticals C E Ferulic Review – Is It Worth It?
SkinCeuticals C E Ferulic Overview
If there's one thing SkinCeuticals is famous for, it's antioxidants.  These skin saving compounds have been a major focus of the company for many years.  Research breakthroughs, patents, and dozens of peer reviewed studies all lead to customer confidence that these guys know what they're doing when it comes to products that can protect your skin from the damages causes by sun and environmental exposure.  That's why we're taking the time to look into SkinCeuticals C E Ferulic serum.
In 2009, SkinCeuticals C E Ferulic won the Allure Best of Beauty award for anti-aging products.  Its antioxidant-rich formula provides real protection against photo-aging and free radical damage.  It also stimulates collagen production to increase skin's firmness so you have fewer wrinkles.
SkinCeuticals C E Ferulic Ingredients and How They Work
SkinCeuticals C E Ferulic is first and foremost an antioxidant formula.  The three key ingredients are all considered among the most powerful antioxidants we've got:
15% L-Ascorbic Acid is an active form of Vitamin C that neutralizes free radicals caused by environmental damage and encourages your skin to produce more collagen.  Collagen is what makes young skin look young.  As we age, we lose the ability to make enough.  This potent form of Vitamin C helps change that.
1% Alpha Tocopherol is an active form of Vitamin E that also neutralizes free radicals and helps soothe and heal sun-damaged skin.
0.5% Ferulic Acid is a plant based antioxidant that's fairly new on the scene.  Preliminary research is encouraging.  The findings are that it neutralizes free radicals like the others, and also inhibits melanogensis caused by the sun.
You should apply 4 or 5 drops all over your face and neck in the morning, after cleansing and toning.  Always follow up with a sunscreen, as the combination of SkinCeuticals C E Ferulic and sunscreen is hard to beat when it comes to photo-protection.
SkinCeuticals C E Ferulic Pros and Cons
Advantages of SkinCeuticals C E Ferulic
It contains powerful antioxidants your skin needs in the proper pH levels to make them effective.
It is recommended by dermatologists and other skincare professionals.
A little goes a long way.
Disadvantages of SkinCeuticals C E Ferulic
It is expensive.
The eye dropper mechanism may cause it to oxidize more quickly than it should.
Many

SkinCeuticals C E Ferulic

reviews mention the unpleasant scent. Some customers say it's sticky and causes breakouts and irritation.
Where to Buy
SkinCeuticals C E Ferulic is recommended and sold by many dermatologists and spas.  There are lots of online sources as well.  The 1 oz bottle has a list price of $146.  You can find it for less, but you'll want to be careful that the batch you're getting is not too old.  The serum will turn orange when it oxidizes.  SkinCeuticals says it still works after the color turns, but I wouldn't think you'd want to buy it that way.
Conclusion
There's no doubt SkinCeuticals C E Ferulic is a powerful antioxidant serum that helps fight against the damage sun can do to your skin.  The question you have to ask yourself though is whether or not it's worth it.  First of all, it's expensive.  On top of that, there are lots of complaints about how it smells bad, it goes on sticky, and it causes breakouts (serious in some cases).  If your dermatologist recommends it, and you use it under his or her care, it could be really helpful.  Otherwise, we think you'd be better off looking for something with all the benefits of SkinCeuticals C E Ferulic and none of the potential drawbacks.
Have You Used SkinCeuticals C E Ferulic?  Leave Your Review Below!
Click here to submit your review.
---
Excited to Try It, Very Unimpressed
SkinCeuticals C E Ferulic Review – Is It Worth It?
I received a sample of this stuff & was thrilled to try it out from a sample offer, especially after seeing how expensive it is. The scent is awful, shocking for a product like this & again for the price.It caused me to have bad breakouts each time I tried it & at first didnt think it was from this product until I did some testing.The breakouts werent like oily skin or the kind after using a new product but rather these weird deep, under the skin "bumps" that looked & felt weird,turned to pimple type "things" LoL They were all over the areas ONLY where I applied the product & took a long while to go away.

---
Yuk
SkinCeuticals C E Ferulic Review – Is It Worth It?
Made skin feel horribly sticky. Tried using less and it always left skin feeling sick and uncomfortabe.

---
User Questions and Answers
User Questions and Answers
---
Q: CE Ferulic makes me break out. What can I use instead? -Janice
A:
Hi Janice, check out the Posh Moisturize 911 mixed with the Cann I Be topical CBD oil in my favorite moisturizers review - it's a fabulous combo! Not sticky at all and CBD has healing properties, shrinks pores, smooths the skin, anti inflammatory and is even good for acne prone skin. I have people on this combo for its anti aging benefits and also a friend who has severe cystic acne and it's helping for both! Thanks for your question. Rachel
Was this question helpful to you?

---
Q: I'm 70, in terrific shape and have always looked after my skin. I have used Jakare cosmetics for the last 16 years. I'm thinking that now I might need something better. I have never had "out breaks" and my skin is normal. I am pleased with my skin, but wonder if I could do better with the right formulas. -Anna
A:
Hi Anna, have you ever tried any facial oils? I love the Beautycounter Vitamin C Brightening oil and I also really love Lifecell as an advanced anti-aging treatment / wrinkle filler even though it is a membership product to get started. Sometimes I am constantly switching things up to give my skin all kinds of different nutrition but I do use these frequently (those links are to my personal reviews). Thanks for your message. Rachel
Was this question helpful to you?

---