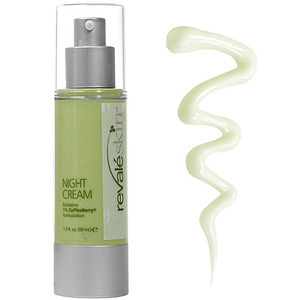 RevaleSkin Night Cream Review – Is It Worth It?
RevaleSkin Night Cream Overview
Revaleskin's tag line is "Part nature. Part science. All beauty."  Revaleskin products use the concentrated power of CoffeeBerry Whole Fruit Extract and promises to reverse the hands of time.  Fine lines and wrinkles will appear to be brushed away, and your skin will have a smooth, even, radiant tone, the look found in young, healthy, nourished skin.
RevaleSkin Night Cream is a multi-year Allure Best of Beauty winner for its high potency antioxidant properties.  It has a light, non-greasy texture that absorbs quickly and doesn't clog pores.  You'll wake up with freshly rejuvenated and repaired, younger-looking skin.
RevaleSkin Night Cream Ingredients and How They Work
The primary ingredient in RevaleSkin Night Cream, as in all RevaleSkin products is CoffeeBerry Whole Fruit Extract (1%).  In clinical tests, CoffeeBerry has been shown to be a more potent antioxidant than Green Tea.  The power comes from the inclusion of multiple polyphenol antioxidants which work together to give you broad spectrum free radical protection.  All this translates into superior damage correction and prevention.
Rounding out the RevaleSkin Night Cream formula are:
Vitamin E – yet another antioxidant for even more free radical protection.
Grapefruit Extract – with natural alpha hydroxy acids for gentle exfoliation.
Caprylic/Capric Triglyceride – a non-greasy emollient.
Phospholipids – which increase skin hydration.
Silica – to add luminosity and radiance to the skin.
Dimethicone – to provide a moisture barrier.
Glycerin – to moisturize skin.
You should use RevaleSkin Night Cream each night before bed. The website shows before and after photos using a time frame of 12 weeks. Also, a large number of RevaleSkin Night Cream reviews note that it takes some time (usually a month or so) to achieve real results.
RevaleSkin Night Cream Pros and Cons
There are two sides to every coin.  Listing out what's good and what's bad about a product is a great way to make the ultimate decision as to whether or not to buy.
Advantages of RevaleSkin Night Cream
It's loaded with antioxidants.
RevaleSkin Night Cream reviews are overwhelmingly positive.
It's recommended by dermatologists.
It's non-greasy and lightly textured.
Many customers have found that it calms rosacea.
Disadvantages of RevaleSkin Night Cream
It's expensive.
There is no satisfaction guarantee offered through the manufacturer.
There have been cases of some unauthorized retailers selling fraudulent RevaleSkin Night Cream.
Where to Buy
RevaleSkin does not sell its products directly through their website.  They do offer a physician locator, but when we tried it, we didn't get anywhere.  So currently, your only option, it seems, is to order it online.  There are plenty of online retailers that offer it. Generally, the price for the RevaleSkin Night Cream is $120 for a 1.7 oz pump.  The Revaleskin website warns against unauthorized retailers offering fake product.  They specifically name SkinMedix, where you can get it for $72, which is far below the lowest price anywhere else.
Conclusion
There's a lot that's good about RevaleSkin Night Cream.  The amount of antioxidants is great, and the rest of the ingredients make for a great, gentle anti-aging night cream.  It is expensive.  But almost all the reviews we read acknowledge that fact and say it's worth it.  The only real concern we have is that there's known fraud surrounding RevaleSkin Night Cream.  Revalaskin suggests that you contact them if you have concerns about whether or not you're dealing with an authorized dealer. If you can get that assurance, and you can spare the $120, we think you'll be happy with RevaleSkin Night Cream.
Have You Used RevaleSkin Night Cream?  Leave Your Review Below!
How Women Found This Review:
and revlanteskin fraud
User Questions and Answers
User Questions and Answers
---
Q: how long does a bottle last -Debbie
A:
It's a 1.7 oz bottle so if you're using it twice a day, it should last about a month. :)
Was this question helpful to you?
1 out of 1 people found this question helpful.
---
Q: Can u get this in any store! I'm a cosmetologist and would like to try a sample -Alyce
A:
Hi Alyce, I think this is a super old product, as it's a very old review.... I don't think so.
Was this question helpful to you?

---