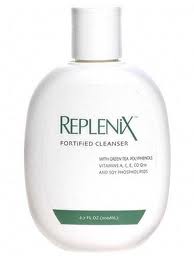 Replenix Fortified Cleanser Review – Does It Work?
Replenix Fortified Cleanser Overview
When it comes to skincare, it really all starts with the cleanser, doesn't it?  You need to find one that offers the right amount of cleansing while maintaining the right amount of moisture.  A few skin type specific benefits thrown in for good measure wouldn't hurt either.  Today, we're looking at Replenix Fortified Cleanser.  This one claims to be suitable for all skin types, and judging from the customer reviews were found, it is.  Ultimately, it's pretty simple, gentle, and effective for most people.
Replenix Fortified Cleanser is made by Topix Pharmaceuticals.  The primary focus of the company is making skin care products to be dispensed by dermatologists.  Their Replenix line is based on the antioxidant properties of Green Tea.
Replenix Fortified Cleanser Ingredients and How They Work
Replenix Fortified Cleanser is soap-free, and it's designed to offer gentle cleansing without drying.  It comes out of the pump creamy, and doesn't really lather.  You apply a small amount to your damp face and massage gently.  When you're done, you should rinse clean with lukewarm water and pat dry.
The Green Tea Extract contains the most powerful antioxidants available.  These EGCGs neutralize the free radicals that can be so damaging to your skin.  Replenix Fortified Cleanser is also rich in Vitamin A, Vitamin C, Vitamin E, Polyphenols, and Co-Q10.
The manufacturer says it can be used for any type of skin, but that it work particularly well for:
Anti-Aging
Rosacea
Sensitive Skin
Dry Skin
Post-Procedure Skin
Replenix Fortified Cleanser Pros and Cons
Comparing the benefits and drawbacks can help you make a smart decision about which is the best cleanser for your skin and your budget.
Advantages of Replenix Fortified Cleanser
It's gentle.
Most Replenix Fortified Cleanser reviews reveal loyal and satisfied customers.
It is recommended by dermatologists.
It's pretty affordable.
It doesn't dry your skin.
Disadvantages of Replenix Fortified Cleanser
Some users find that it doesn't remove makeup as well as they would like.
Where to Buy
Replenix Fortified Cleanser is often recommended and dispensed through dermatologists, but we also found several online sources.  A 6.7 oz bottle costs anywhere from $18 to $25 so shopping around would be in your best interest.
Conclusion
We all have different cleansing needs.  If what you need is a gentle, non-irritating, non-drying cleanser, Replenix Fortified Cleanser might be a good choice.  The doctor recommendations go a long way toward making us comfortable with this product.  It also received the 2006 Best Facial Cleanser for Normal Skin Award from InStyle Magazine.  With those recommendations, the positive reviews, and the reasonable price, we think you'd do well to try Replenix Fortified Cleanser.
Have You Used Replenix Fortified Cleanser?  Leave Your Review Below!
User Questions and Answers
User Questions and Answers
No Questions Have Been Answered For This Article.