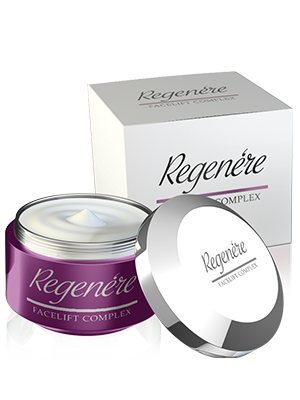 Regenere Facelift Complex Review – Clinically Proven or Scam?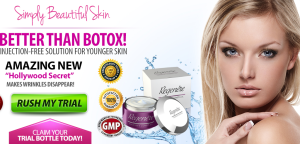 "Simply Beautiful Skin" is the promise, but is Regenere Facelift Complex really a cream that can dramatically reduce wrinkles with proven results?
I decided to write a review about Regenere after an upset customer emailed me, and the story is all too familiar.
She was charged $84.95 after 12 days (what I consider a "short-term free trial") for what she thought was a free trial of Regenere and could not find a phone number to call them to dispute the charges. Unfortunately I get emails every day just like this from people looking for help.
So let's take a closer look at Regenere Facelift Complex to see what their product promises, and if they have the clinical trials to back up the ingredients, something that's very important when shopping for a wrinkle cream or other anti-aging product.
We will also talk about Regenere's billing arrangement to determine whether this is yet another free trial wrinkle cream scam or a legit wrinkle cream that will actually make a difference in your skin.
Regenere Facelift Complex – What Do They Promise?
Regenere promises "advanced wrinkle reduction for dramatic clinically proven results."  It also promises the following benefits without expensive surgery:
"Deminishes wrinkles" (yes that's a typo, more on that later)
Dramatic skin repair
Smoothens skin
Counters the aging effect of stress
Look up to 10 years younger
Make wrinkles disappear
Amazing new Hollywood secret
Better than botox
In a recent study of their skin care "incregients" (another of many typos) found in their advanced formula, after 8 weeks there was an 84% decrease of fine lines, 95% increase of collagen production, and 73% decrease of dark circles.
At this point in my research of Regenere, there are already a few glaring red flags that there's something fishy about their website and their claims.  For me they are easy to spot, but for the average consumer, they are often overlooked.
Red Flag #1:  Are there really clinical trials?
Usually a reputable anti-aging treatment or cream sales page will talk about their clinical trials when it comes to their ingredients. They are proud of the fact that they use quality ingredients that have been clinically proven to bring results, and they back up those claims with links to the actual clinical trials.
For Example, take a look at Kollagen Intensiv's sales page.  This is one of my top recommended creams, so it's a good example.
You'll need to scroll about 2/3 down the page to the part where it says "Clinically Proven" and scroll down a little further to where it says:
"In a clinical study, volunteers who applied SYN®-COLL twice daily for 84 days reported a 354% improvement* in the overall appearance of their wrinkles (when compared to the placebo)…"
Now, if you click on the link that's highlighted, it takes you to a pdf document of the ACTUAL clinical trial's research on that specific ingredient. These are the types of facts you need to look for when shopping.
Throughout Regenere's page, it references their "clinically proven results" but there is absolutely nothing to back it up, no links, and no ingredients listed.
They also state their ingredients are not revealed so as to "thwart" a replication. Really? I don't know about you, but I won't buy a cream that doesn't list its ingredients.
Red Flag #2:  Why the fuss over grammar?
There are countless grammatical errors on the sales page, and this is usually a sign that the cream does not originate from the U.S. If you've read my Investigative Report on wrinkle cream scams, this can be a problem.
Now I'm not just being persnickety about an honest grammar mistake. I investigate these wrinkle cream scams daily, and it's a theme that's common with many of them.  Why should you be concerned?
Many of these creams originate from South American countries so there is no recourse (no extradition policy) for an American consumer to get their money back if they're not happy, and a lot of times they will list bad or non existent phone numbers.
And guess what? Once the public catches on that this is a short-term wrinkle cream scam, they usually change the product's name, the packaging, and start a whole new campaign.
Red Flag #3:  What are the hidden terms & conditions?
There is not a free trial on the planet that does not charge you the full price of the product once the trial period is up, and Regenere is one of them. This is why I don't like short-term free trial products. There's not enough time to receive the product and try it long enough to decide if you like it.
You need to look at the terms and conditions to see what's really up with the free trial, and here's how I do it. I put a fake name, address, phone number and email address on the first sales page, so that it takes me to the billing page, and here is where you will find the terms and conditions. At this point you're not required to enter your credit card number.
Most of the time it's really hard to find the terms and conditions and you have to scroll down the page to look for the tiny, microscopic link. When I did this on the Regenere page, it did the old "bait and switch" and took me to a completely different cream's purchasing page, which is another red flag.
I thought I was signing up for Regenere, but when I looked closely it changed to "Dermajuve" in the fine print. What a tangled web of deceit! All these scams work the same though.
On the 14th day, you will be billed the full purchase price of $84.95 and they will automatically send you new product every 30 days and charge you that same amount.
The problem is, most people have NO IDEA they are actually signing up for an auto-ship, auto-billing arrangement, and they find themselves stuck in a position where it's hard to cancel, and impossible to get their money back.
Red Flag #4:  What else did I find worrisome?
A couple of things jumped out at me as I was reading their terms and conditions that I felt were noteworthy, and a bit strange and unsettling:
Avoid if you have allergies
Use as recommended by your Doctor to avoid mishappenings
Not recommended for women under 30
Must be 18 to use Regenere
What sort of "mishappenings" are they worried may occur? And why wouldn't women in their 20's be able to use this cream? These make no sense, but they are certainly trying to cover their butts in case you break out in a rash or worse.
Conclusion and Recommendation
If it's not obvious by now, I would strongly recommend against agreeing to Regenere Facelift Complex's free trial. It has all the signs of a  wrinkle cream scam with multiple red flags to prove it.
Regenere claims their product is clinically proven but they do not provide any links to the clinical trials, nor do they post the ingredients. They simply state it's their "advanced formula." I said this before and I'll say it again – I would never purchase a cream that did not list its ingredients.
There are multiple grammatical errors on the Regenere sales page which usually indicates it originates from a foreign country, which equates to a huge headache later if you want to return the product.
Regenere only allows you 14 days to decide whether or not you like the cream which is not enough time to receive it, much less try it for any length of time.
Does Regenere Sell "Regenes Lift Cream"?
We believe that the same company that offers Regenere Facelift Complex may also sell "Regenes Lift Cream" as it's a similar name and its sales pages and offers are identical. Be careful of Regenes Lift Cream as well, and always read the terms and conditions!
How to Cancel Regenere's Trial
If you have agreed to Regenere's free trial and wish to cancel your auto-ship, auto-bill arrangement, you need to call the company and request to cancel your free trial right away.
I did some sleuthing (again in the terms and conditions) and I found a couple of phone numbers for Regenere. You can also ask them if they will issue a refund if you send the unused portion back.
If they allow this, they will normally charge you a "restocking fee" of about $35, but at least you'll get some of your money back.
If they refuse to cancel, or if you cannot reach them, then I would recommend disputing the charges with your bank. You may even need to cancel the credit card altogether in a worst case scenario.
The phone number I found for Regenere are as follows:
844-821-5727
877-240-9369
Recommendation
Don't accept free trials of this nature, it's always better to buy a cream outright that has a money back guarantee.
My top cream Kollagen Intensiv is very effective, I've used it for over 4 years with great results! It's worth a look.
Have you used Regenere? Leave your questions or comments below!
How Women Found This Review:
and regenere facelift complex, and regenere, and regenere cream reviews
Click here to submit your review.
---
Scam
Regenere Facelift Complex Review – Clinically Proven or Scam?
Don't buy this! It is a scam and you will be out a couple hundred dolllars if you don't cancel within 14 days!

---
Don't get scammed
Regenere Facelift Complex Review – Clinically Proven or Scam?
This is a scam using "Shark Tank" TV show as advertising. This company and others like it (or the same under a different name) WILL scam you. Please read the terms and conditions fully before ordering. They are not readily visible. You will have to look for them on the site. They are very aggressive about collecting your money once you have signed up, and your credit card company (in my case citibank) will not let you dispute it, because of their terms and conditions. If you order the trial package, beware. It is not free, they send you a 30 day supply with a 14 day trial period, which starts when you please the order. Not even when the product arrives. If you are even 1 minute late, (14 days and 1 minute) to cancel, they will charge you the full price. Anyway, again beware. THIS IS A SCAM. And there are many more out there under different names, Allegro, Brio, and others.

---
Not Sure
Regenere Facelift Complex Review – Clinically Proven or Scam?
Purchased a while back. Just started today. This type of website is being used for a lot of skin creams. Looks some what different depending on the product. It doesn't take long to recognize it is the same scam. We all need to learn about firming products. When these creams first came out they used the word plumping. Customers figured that out, so the word was changed to firming. Customers love this word. Firming is not permanent. it does not change the initial wrinkle problem. If anytime it is worse. When the firming has stopped working for the day your wrinkles are worst because your skin has stretched with the firming process. These products are not what you think they are. If anything your wrinkles end up being worse. This is the hook in getting people to have to buy more. You end up spending a fortune. Just as it is meant to be it becomes addictive or it is a must have because in reality your problem is worse.

---
What a Scan
Regenere Facelift Complex Review – Clinically Proven or Scam?
If I could give this product a zero, I would. The entire process was a scan and I was unable to return it. It did not work - even a little and it turned out that they charged me even when I wanted to return it. Do not get this product!

---
Totally Upset!!
Regenere Facelift Complex Review – Clinically Proven or Scam?
Wish I didnt even have to give it one star...i think at the least minus 5 stars. I got charged the $89.92 also
and the lady on the phone was very unkind when i asked for this charged to be refuned as there were not anywhere where it said I would be charged in 14 days unless I cancelled. I told her, it be stated boldly so people could really see if this not a scam!! She said, I should have read the fine print...I never found the fine print when I went back and looked. What a crock!!....She kept on typing, and I asked, what are you typing????? She said she is asking her manager what we could do ...She finally said, after many offers I wouldnt accept, other than a full refund....She said she would send a partial refund..I still said not good enough...she said she would go ahead and charge the other $84 dollars...for what I asked, and she said , for the creams you have in your possention..I said What?? These little thinks you sent me??? She yes, those were the full size bottles. I said, you've got to be kidding!! When I asked what she was typing. She said, her manager to see if they could give me a deal...she come back and said they could refund me 1/2..I said I want the whole refund or my CC co. would be investigating this. She said go ahead. WE have dealt them before....UGH!!!! I hope it goes into my favor! Make SURE you cancel ALL further shipments, or you will get charged again!

---
1
Regenere Facelift Complex Review – Clinically Proven or Scam?
This is a scam--- they started placing all kinds of charges on my cc

---
Scam
Regenere Facelift Complex Review – Clinically Proven or Scam?
Didn't get a chance to really test this product before they deducted $84 and $89 from my bank acct.Then they proceed to tell me that was for the tiny bottles they send. Here are phone #'s I called. Hope this helps from someone else getting took for their hard earned money. 1-844-223-6412 and 1-888-918-6106 By the way called both and guess what got same person to talk to.

---
SCAM CITY
Regenere Facelift Complex Review – Clinically Proven or Scam?
Do not purchase this Regenere trial scam. I paid $34 for 3 items, never realizing it was a trial that I could cancel. I ended up paying $180! Then they tried to sell me more items over the phone.

---
Regenere
Regenere Facelift Complex Review – Clinically Proven or Scam?
Negative rating. It's a scam!!! Read the fine print. They provide a bogus ph# so you can't cancel your "membership". What a joke. Only real number which I found from another scammed consumer 877-240-9369.

---
Regenere Skin Cream
Regenere Facelift Complex Review – Clinically Proven or Scam?
I requested a trial sample of the cream and evidently didn't find the terms so didn't know that this would be an ongoing order if I didn't cancel within their timeframe. However, I noticed a charge for $89 and some cents on my bank statement so called and cancelled the order. I told them that I would send the cream back when it arrived. However, no more cream arrived so I looked for the refund on my bank statement and that was not there either. So today tried calling them only to discover that their phone no. on my bank statement was not a working number and the number online under Customer Service was not a working number either. When I called the Fulfillment Service number, they gave me the correct no. which at the moment is: 877-286-0845. They were not going to give me the refund saying that the trial period had expired and I hadn't sent the "trial" sample back. They were going to charge me over $89 for 1 oz. of cream which I had paid $4.95 to receive??? At any rate, they agreed to refund my account 85% of the $89. I'll see if it shows up on my bank statement or not.

---
User Questions and Answers
User Questions and Answers
---
Q: Couls u please supply me with Regenere's phone # if possible. I am having a museable side effect! Thank you -Barbara
A:
Regenere's phone is: 877-240-9369. You're the third women this week who's emailed me saying they've had a bad reaction. One lady had burning and redness, and the others had rashes. Awful! Who knows what's in these creams because they don't post their ingredients.

Rachel~WomensBlogTalk.com
Was this question helpful to you?
15 out of 15 people found this question helpful.
---
Q: Y can I not get u on the number u provide some ose is interested in your product but want to talk to you over the phone -DIANE
A:
Diane, do you mean you're trying to call Regenere using the numbers I provided in my review? I am NOT Regenere - that is a scam company. Rachel~WomensBlogTalk.com

The phone numbers I found for Regenere are as follows, if these are no longer working numbers, you should contact your bank to block future charges from this awful company.



866-567-1298


877-240-9369


Was this question helpful to you?
10 out of 11 people found this question helpful.
---
Q: What phone number are you getting thru too? All the phone numbers are busy no matter what time you call. I have been calling for four days straight!! -Barbara
A:
Sorry Barbara, this is exactly what the lady said yesterday. You may not want to waste time and visit your bank asap and explain the situation and have them file a fraud dispute.
Was this question helpful to you?
6 out of 6 people found this question helpful.
---
Q: Where can you purchase this product? Price? do not want to lock into an amount that they take out of my credit card acct. Just want to pay as I go. -Julie
A:
you can't buy it outright, it's only as a free trial "scam," I would avoid...
Was this question helpful to you?
2 out of 2 people found this question helpful.
---
Q: Please do not charge my account another penny & also return the amount you charged me -Judy
A:
Judy, I'm not the one charging you, I write to warn people of these scams. Please take a look at my Skin Care Free Trials Phone Numbers for Cancellation list and call the cream company and cancel. Or file a fraud dispute with your bank if you want to try and get any money back. These companies don't accommodate normally. Good luck, Rachel
Was this question helpful to you?
1 out of 1 people found this question helpful.
---