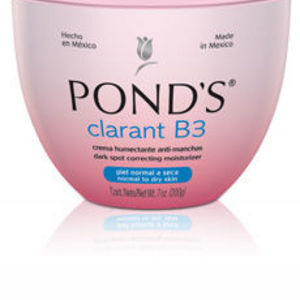 Pond's Clarant B-3 Anti-Dark Moisturizing Cream Review
Pond's Clarant B-3  Anti-Dark Moisturizing Cream Overview
I bet almost all of us grew up with a jar of Pond's cold cream in the bathroom; it was a staple in most households.  Generations of women have trusted their skin care to Pond's. Pond
's creams have been around since 1846 and are still manufacturing affordable skin care products today.  One of their offerings is Pond's Clarant B-3 Anti-Dark Moisturizing Cream. This cream is said to soothe and moisturize and have the added ability to lighten dark spots and create a more even skin tone.  Does it really work?
Pond's Clarant B-3 – It's Ingredients and How it Works
The Pond's Clarant B-3 cream we're looking at today is the normal to dry formula.  It is also available in a normal to oily version.  In the midst of the 20th century Pond's merged with Chesebrough company and was then purchased by Unilever in 1987. That's when Pond's products began to infiltrate the rest of the world.
Pond's creams are renowned for being a good moisturizer, but now they are providing products that do more than just hydrate the skin.  Pond's Clarant B-3 is promoted as a lightener as well.  The vitamin B3 added to the formula is reported to reduce redness and skin discoloration and Vitamin C is included for its antioxidant properties.
The complete list of ingredients in Pond's Clarant B-3 includes:
Water, Niacinamide, Stearic Acid, isopropyl Myristate, Mineral Oil, Glyceryl Stearate, Ethylhexyl Methoxycinnamate, Glycerin, Triethanolamine, Carbomer, Cetyl Alcohol, Butyl Methoxydibenzoylmethane, Dimethicone, Fragrance, Methylparaben, Sodium PCA, Glutamic Acid, Propylparaben, Sodium Hydroxide, Disodium EDTA, Sodium Ascorbyl Phosphate
The directions say to apply Pond's Clarant B-3 twice a day, once in the morning and once in the evening after you've completed your other skin care regimes.  The morning application can be worn beneath your makeup.
According to the manufacturer, you should see results in four weeks or less after beginning use of Pond's Clarant B-3.  Many of the consumer reviews reported seeing lightening effects in as little as 1-2 weeks. Numerous customers also reported combining this product with Pond's Rejuveness, an anti-aging skin cream, with Pond's Clarant B-3 for a more complete skin care routine.
Where to Buy Pond's Clarant B-3
You can buy Poond's Clarant B-3 cream in many national retail stores or online from numerous websites.  The price ranges from around $8 up to about $15, so shop carefully. The standard size is a 7-ounce jar but you can often find trial size versions of Pond's Clarant B-3 available for less than $2.
Pond's Clarant B-3 Pros
Affordable
Multiple positive consumer reviews online
Quick results reported
Trial size versions available under $2
May be used under makeup and with other skin care products
Easy to purchase in local stores
Pond's Clarant B-3 Cons
Pond's website does not provide much information about the product
No clinical evidence available
Our Conclusions
Pond's is one of the oldest and most trusted names in the skin care industry.  Although they are not very forthcoming on their website about ingredients, etc, we still like this product.  There are lots of happy customers reporting good results with this bargain priced cream. Pond's Clarant B-3 Anti-Dark Moisturizing Cream is priced low enough to fit in anyone's budget and you can get trial sized versions for just pennies.  If it works, why pay more?
Have Your Tried Pond's Clarant B-3?  Leave Your Review Below!
---
how to get a man backHow Do I Get My Ex Back how to get back your ex girlfriend how to text your ex backwin back your ex girlfriend
User Questions and Answers
User Questions and Answers
No Questions Have Been Answered For This Article.